Born To The Badge, Wyatt Earp An American Odyssey Book 2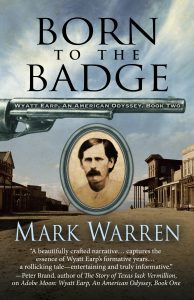 Born to the Badge is the second book in Mark Warren's trilogy on the life of Wyatt Earp and covers Wyatt's Kansas years. Born to the Badge was honored as a "2019 Spur Award Finalist!"
In Born to the Badge Wyatt Earp builds his reputation as a Kansas peace officer in the storied towns of Wichita and Dodge City. Known for his straight-ahead, no-nonsense demeanor he is both admired and hated, yet respected by almost all who cross his path. His story broadens with the complications of relationships, one with a common-law wife who struggles to overcome her past as a prostitute … the other with a mercurial but loyal Doc Holliday, the tubercular Georgia dentist who knows that he is condemned to a short life. Still pursuing his dogged fix on becoming something more than a foot-soldier for a town government, Wyatt refines his skills at the gambling tables and bides his time, never realizing that he is moving toward the legend status that awaits him in Arizona.
Reviews for "Born to the Badge"
In 1896, Ed Colburn, who had been a Dodge City attorney during that town's turbulent early years, remembered Wyatt Earp:  "While there (Dodge City), I saw Wyatt Earp do things you wouldn't undertake for a million dollars, and yet he did it every day just as a street car conductor rings up fares or a banker receives deposits."  In "Born to the Badge" Mark Warren follows Earp through the Kansas cow-towns where he first makes a name for himself.  They still talk about Wyatt Earp in Wichita and Dodge City.  After reading this book, you'll understand why. ~
Jeff Morey, Historical Consultant for the movie "Tombstone."
"Mark Warren is the first writer to illuminate the Earp story from the inside.  Adobe Moon and Born to the Badge show you why Wyatt Earp became a legend and what that legend was born out of."  ~Allen Barra, author of Inventing Wyatt Earp, his Life and Many Legends.
"Not every writer understands that the most important line in any book is the hook – that opening sentence which grabs your attention and makes you eager to read on. Born to the Badge opens with the following line: 'Wichita, Kansas, was hell in the making…' and there I went – engrossed for hours…Warren is able to convey scenes with a cinematic clarity. In this way, I can see the store room lit by the warm glow of a single lantern; and the prairie crossing at night, guided solely by the stars above and the subtle shapes of the land smudged on a distant horizon" ~Peta Stevalli, New Zealand Booklovers
"Warren's novel paints a vivid picture of the lawlessness of the American Frontier…Although this book is a fictionalized account, its dedication to facts will keep history buffs satisfied, and its colorful similes will put a smile on any genre-fiction lover's face." ~ Booklist
"Historian Mark Warren's second volume in his trilogy on the life and times of Wyatt Earp is an excellent story of Earp's adventures and misadventures in Kansas, the Dakotas, and Texas. The dialogue is virtually true to life and gives the feeling the author must have been present when the words were originally spoken.  This volume has been anticipated and meets all expectations.  Whether one is new to the story of Wyatt Earp or a seasoned historian of the Wild West, there is something here for everyone who loves stories of adventure, law and order, and life on the western frontier of the 1870s.  A most worthwhile contribution to the story of "Wyatt Earp, Wyatt Earp, Brave, Courageous, and Bold!" ~ Roy B. Young, author and Western historian, Wild West History Association
Now available through your local Indie Bookstore,  Amazon, BAM, and Barnes and Noble!
Meet the Author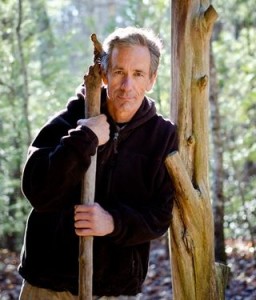 Mark Warren has been writing stories since he was a child growing up in Georgia. He is a graduate of the University of Georgia with a degree in Chemistry/Pre-med. Following undergraduate college work Mark pursued music composition and arrangement at Georgia State University, while performing original works in various concerts, scoring plays for The Academy Theater and having his suite The Once and Future King performed by the Atlanta Symphony Orchestra.
At Medicine Bow, his school in the Southern Appalachians, he teaches nature classes and survival skills of the Cherokees. The National Wildlife Federation named him Georgia's Conservation Educator of the Year in 1980. In 1998 Mark became the U.S. National Champion in whitewater canoeing, and in 1999 he won the World Championship Longbow title.
Mark has written extensively about nature for national and regional magazines, including: Guernica, Blue Ridge Highlander, North Georgia Journal, Georgia Backroads, Survivor's Edge, Backwoodsman, Mother Earth News, Camping and Paddle Magazine.
Mark is a lifelong student of Native American History and Survival Skills, and Western History with a special focus on Wyatt Earp. He is a member of the Wild West History Association and Western Writers of America, and has presented as "Guest Historian" at some of the top western museums in the country including The Booth Western Art Museum, Tombstone Courthouse Museum, Arizona History Museum, Arizona Heritage Center, Old Cowtown Museum and Scottsdale's Museum of the West.
For speaking inquiries contact his publicist, Susan Brown at markwarrenbooks@att.net or 706-864-5928