Praise for Indigo Heaven
"I just love this book!" ~ Lois Reitzes, City Lights, WABE Atlanta
"Mark Warren has crafted another beautiful manuscript … reminiscent of Western classics." Denise McAllister, True West Magazine
"Indigo Heaven delivers. The author is particularly skilled at depicting landscape. Whether he is drawing a word picture of the hollows of the southern Appalachians or the plains of Wyoming, he puts the reader there." Garth Gould, The Tombstone Epitaph National Edition
"A blend of action and romance, the fast-moving plot has many twists and is matched by an impressively vivid, immersive style." David Morrell, Roundup Magazine
Synopsis:
Clayton Jane, a war-weary ex-Confederate from Georgia, heads west to Wyoming, where he reconstructs his life as a ranch foreman and right-hand man for an English cattle baron. When the Englishman's sister, a promising Surrey painter, visits along with her husband and young son, the ranch hands soon learn that this reunion is more than a family gathering. The brother-in-law, who provided most of the investment money for the Rolling F Ranch, has come to take over the ownership and management. As the crew ponders its shift of loyalty to such a man, they begin to see signs that he is a wife-beater. When Clayt attempts to interfere in this suppressed spousal abuse, he finds himself in an awkward position with his present employer and future employer. His dedication to protecting this headstrong artistic woman leads to a surprising bond between ranch foreman and celebrated painter, a relationship that totters between mutual respect and romance.
With these complications in place, Clayt is treated to a new level of troubles. A Pinkerton detective is sent to Laramie to investigate anonymous threats from a would-be president-assassin. President Grant is due to come into town on a political tour, and Clayt—an ex-Southerner—finds himself on the Pinkerton's list of suspects.
Order Your Signed Copy of Indigo Heaven Today! Holiday Special – Order by the end of December and receive a free set of note cards (original artwork by the author.) Note: the cards will be an assortment and may not be the actual cards pictured here.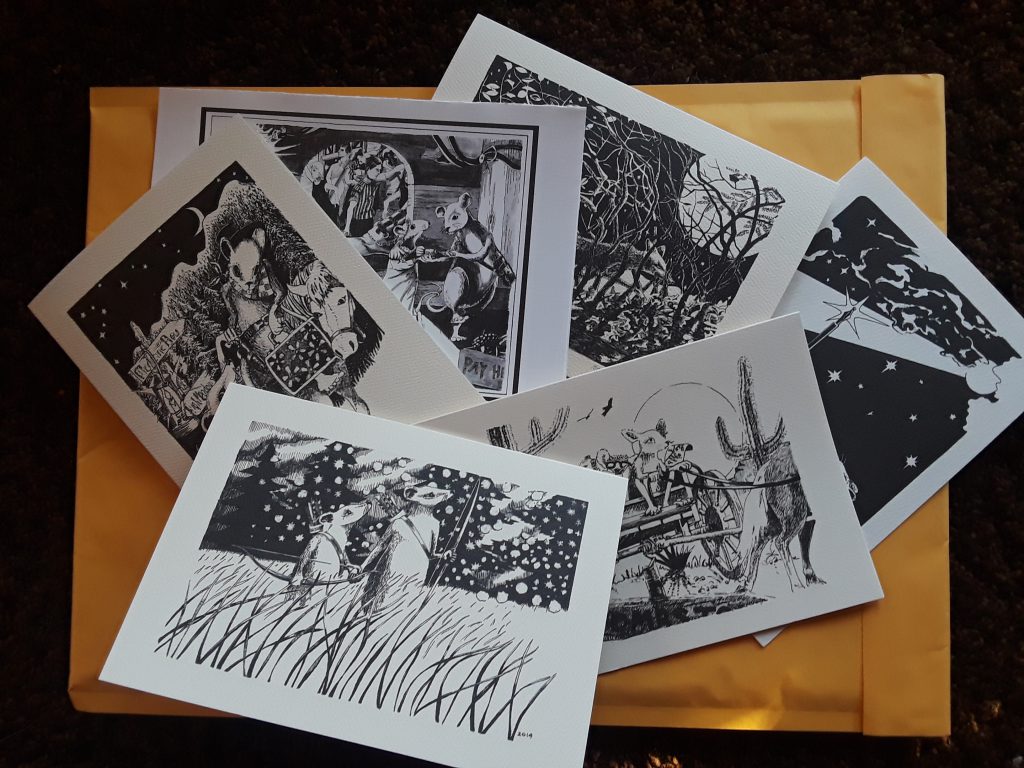 *Please note that we do not ship outside of the contiguous United States.
Author talk for bookstores, museums and cultural centers: The Cowboy's Place in America's Self Image
America's concept of its Wild West has played a big part in defining its collective psyche as a nation. In the early 20th century the laconic cowboy emerged as a unique standard for independence, self-reliance, Victorian courtesy, and unbending courage. In 1902 Owen Wister gave us The Virginian as the opening act to this iconic story of the lowly cowhand as a noble protagonist. His character was a welcome change from the death-defying pulp heroes from the pens of sensationalist writers such as Ned Buntline and George Ward Nichols. Americans now had a hero from the common ranks of the everyday worker.
The West offered a new venue for a man to begin his life anew . . . no questions asked. After the Civil War there was a great demand for such an option. Indigo Heaven explores just such a plight as it chronicles the story of Clayton Jane, a war-damaged veteran who carries such a heavy burden of sins that he considers himself unredeemable.
For Clayt, Wyoming changed all that.
Modern journalists like to write of a celebrity "reinventing" himself or herself, imparting to the reader the sense of a phony agenda. But isn't a man who he chooses to be if his entire will is dedicated to that goal? And doesn't war force a man into that choice? For if not, isn't that man inured to killing destined to become a stigma in his own society? An outlaw?
These are the kinds of ideas to be explored in reading Indigo Heaven and discussed in an author's presentation on the return of the literary Western.
Contact Mark's publicist for information on booking an author event. Susan Brown – markwarrenbooks(at)att.net