Promised Land, Wyatt Earp An American Odyssey Book 3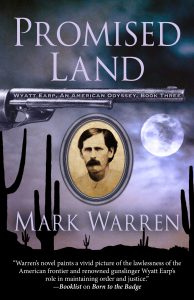 Promised Land, is the third book of Mark Warren's trilogy on the life of Wyatt Earp. This long awaited, final installment in the trilogy covers Wyatt's Tombstone years, the famous gunfight near the OK Corral, and the ensuing "Vendetta Ride." Promised Land has been named an "Editor's Choice" by The Historical Novel Society.
Promised Land – From all over the country, dreamers are trekking to Tombstone, Arizona Territory, where a major silver strike promises new opportunities for a man to make his fortune. Wyatt Earp brings to the boomtown a wagon and team of draft horses to open a stage line that will transport people and bullion, but finding the stage business glutted, Wyatt is pulled back into law enforcement.
But Tombstone is not Kansas, where rowdy Texas drovers bring longhorn cattle, mischief, and mayhem . . . all on a seasonal basis. In Arizona desperate saddlers–many of them run out of Texas by the Rangers–make trouble year round, rustling cattle from Mexico and selling it cheap to small-time ranchers, who have reason to turn a blind eye to their crimes.
With three of the Earp brothers wearing badges, the cow-boys face a new threat to their profligate lifestyle. Holding to the letter of the law, the Earps make as many enemies as they do allies in a deeply divided community.
Wyatt aspires to be county sheriff, and to that end he bargains with outlaw informants to help him capture three wanted men. When the deal unravels, the cow-boy traitors fear retribution from their own, planting the seed for the thirty seconds that will ensure Wyatt Earp his place in history–the gunfight that erupts behind the O.K. Corral.
What follows–assassination and swift justice–guarantees that Wyatt Earp's fame will forever be measured within the debate over law versus order.
Now available through your local  Indie Bookstore, Amazon, BAM or Barnes & Noble!
Read the Reviews:
Promised Land and its two precedent books bring a delightful new flavor to a well-chewed subject.  [Wyatt] Earp and the surrounding cast spring to life with a well-written text that allows for a humanization of the West's most famous confrontation. The conversations meld and ring true, as if Warren was there with pen in hand. The dialogue and personal emotions of the Tombstone cast are splendidly done, leaving this reviewer with the thought that if it ain't true, it oughta be. ~ Scott Dyke, Green Valley News and Author of the Column Meandering the Mesquite
"Wyatt Earp was famous for not saying much, and, respecting the privacy of the man, Mark Warren rarely delivers the kind of long inner monologue than can reveal character. Yet there are touches of poetry in the writing, as Warren delivers his trademark descriptions of the physical environment—the colors of a desert sunset or the scent of sage blown by a desert wind, which give a visceral sense to the man and his world, a place filled with physical sensation rather than emotional sensibility." ~ Victoria Wilcox, Western Historian, Author of the Award-Winning Trilogy The Saga of Doc Holliday
"Promised Land has … received incredible reviews for its authenticity and dedication to the true story of Wyatt Earp … not just another book (about) the famous lawman. Warren is also being praised for his ability to get inside the head of Earp and relate what he was feeling during the often tense moments he found himself in while navigating the dangerous factions of Tombstone." The Washburn Review, Topeka, KS
"Author Mark Warren debunks myths and busts through fanciful folklore in "Promised Land," the final book in his historical-novel trilogy, 'Wyatt Earp: An American Odyssey.' "The Arizona Daily Star, Tucson, AZ
"[In Promised Land] Warren's masterful research and vivid descriptive skills again shine through as he wraps up his trilogy." Selected as "Editor's Choice" by the Historical Novel Society
"Warren brings history to life in his writing, giving readers a sense of place with atmospheric prose. It is obvious that he has done extensive research on his subject, but he's made it approachable for the casual reader. Even if you only have an inkling of Wyatt Earp's fate, the rising suspense will draw you in." The Emporia Gazette, Emporia, KS
"A good book offers the ultimate escape. It's armchair travel to those wild places of the imagination. And if the best of books allows us to escape to new realms, then I would have to say that Warren's books took me to places I had previously not expected to visit, but I'm really glad I went there." Peta Stevallai, New Zealand Booklovers
Meet the Author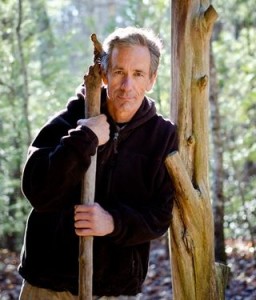 Mark Warren has been writing stories since he was a child growing up in Georgia. He is a graduate of the University of Georgia with a degree in Chemistry/Pre-med. Following undergraduate college work Mark pursued music composition and arrangement at Georgia State University, while performing original works in various concerts, scoring plays for The Academy Theater and having his suite The Once and Future King performed by the Atlanta Symphony Orchestra.
At Medicine Bow, his school in the Southern Appalachians, he teaches nature classes and survival skills of the Cherokees. The National Wildlife Federation named him Georgia's Conservation Educator of the Year in 1980. In 1998 Mark became the U.S. National Champion in whitewater canoeing, and in 1999 he won the World Championship Longbow title.
Mark has written extensively about nature for regional and national magazines, including: Guernica, Blue Ridge Highlander, North Georgia Journal, Georgia Backroads, Survivor's Edge, Backwoodsman, Mother Earth News, Camping and Paddle Magazine.
Mark is a lifelong student of Native American History and Survival Skills, and Western History with a special focus on Wyatt Earp. He is a member of the Wild West History Association and Western Writers of America, and has presented as "Guest Historian" at some of the top western museums in the country including The Booth Western Art Museum, Tombstone Courthouse Museum, Arizona History Museum, Arizona Heritage Center, Old Cowtown Museum and Scottsdale's Museum of the West.
For speaking inquiries contact his publicist, Susan Brown at markwarrenbooks@att.net or 706-864-5928