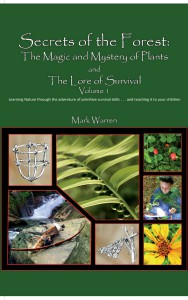 Secrets of the Forest: the Magic and Mystery of Plants and The Lore Of Survival, Volume 1
$28.95 + tax + shipping. Secure Payment from Pay Pal (you can pay by credit card)

SEE ORDERING INFO BELOW
From Medicine Bow Wilderness School in Dahlonega, Georgia comes the series of books that chronicle all of Mark Warren's nature classes. Learn how to take care of your wilderness needs:
Shelter – Build 5 different kinds of hand-made shelters.
Water – Purify the essential liquid by 5 different methods.
Food – Eat 75 species of edible wild plants.
Cooking – Construct wilderness ovens, fry pans, and roasting spits.
Medicine – Resolve food poisoning, insect sting, poison ivy rash, nausea, flesh burn (and many more maladies) by instant preparations from medicinal plants.
Cordage – Make rope (the unsung hero of man's inventions) from both dead and live tree bark, from certain vines, and from plant fibers.
Tools – Craft baskets, throwing sticks, mallets, tongs, shelter doors, insulation for clothing, climbing scaffold, needle and thread, traps and snares.
Weather/time/directions – Did you know there is a bird that can forecast a break from rain with its call? Or that you can read the time of day with your hand? Or read directions from the trees?
Fire – (covered in Volume 2)
Secrets of the Forest is a book for the primitive skills enthusiast, who wants to master the old Indian ways of living comfortably in the wild. But it is further designed for those who want to teach nature through the adventure of survival.
Whether school teacher, scout leader, summer camp counselor, national or state park interpreter, nature center educator, river/hiking/hunting guide or parent . . . the lessons start here.
Volume One contains over 200 hands-on original activities in the following areas:
 Identifying and using 100 plants
(over 100 plant photos included)
 Edible wild plants
 Emergency medicines from plants
 Shelter-building
 Water purification
 Primitive cooking
 Cordage-making
 Insect repellency
 Baskets
 Tool-making
 Traps and snares
 All About Poison Ivy
 Winter Botany
 Using the Throwing Stick
 Larvae as food
 Craft materials from plants
Purchase directly from Medicine Bow:
Secrets of the Forest: The Magic and Mystery of Plants and The Lore of Survival, Vol. 1
For orders of 6 or more books, please contact Mark Warren Directly at 706-864-5928 or medicinebow@att.net