Secrets of the Forest: A four-volume series on Nature and Cherokee Primitive Skills
From the author: The Secrets of the Forest series was written with three purposes in mind:
1) To provide clear instructions in primitive survival skills for anyone wanting to better his/her self-sufficiency in wilderness . . . by learning the old Indian ways of living comfortably in the forest.
2) To offer parents, teachers, Scout leaders, and outdoor educators a guide to engage their students in Nature . . . at a time when our young ones so desperately need this connection, as does Nature itself.
3) To win over a new generation of environmental advocates who will look after this world.
Reviews:
"If you've ever wondered how to transfer lost knowledge and skills to our next generation, this book series is your guide. Mark is no newcomer in the world of primitive skills and nature study. He's been passing on his knowledge to young and old for over a half century. I've had the pleasure of attending several of his classes in Dahlonega, Georgia. Mark is a walking encyclopedia of earth-lore and the skills required to call Nature home." ~ Todd Walker from Survival Sherpa
"Secrets of the Forest is an invaluable teaching tool for my staff at Buffalo Cove Outdoor Education Center. Countless times, I have seen them visit our library in the office and pull this volume off the shelf to aid them in planning classes. The structure and phrasing of Mark's work really speaks to the experiential educator. The content, and breadth of knowledge, contained within the pages is a true gift to anyone seeking a greater understanding of the natural world and really nurtures a connection with the earth!" ~Nathan Roark, Executive Director Buffalo Cove Outdoor Education Center
"Mark Warren is an authentic educator who links his vast knowledge of plants and animals to skills necessary for survival, a combination that creates an active and exciting experience for children and adults. The series has begun to take our school in directions we never imagined possible." ~O.J. Morgan, Head of School at The Bright School, Chattanooga, Tennessee
"Through Mark Warren's Secrets of the Forest, educators, leaders, stewards, interpreters, learners, and students of connecting with and through nature have access to his spirit, insight, and generosity. These [books] are a 'must have' for anyone wanting to inspire, and to be inspired by, ancient wisdom and knowledge based in a deep reverence for the Earth." ~Joseph A. Pate, PhD Department Chair – Outdoor Leadership Assistant Professor Young Harris College
"Mark's classes and books have changed the way I see the world around me.A walk in the woods now is an adventure. I have had the privilege of watching [a] sense of wonder on the faces of students, scouts, and friends, as I teach the magic of the forest that Mark has taught me through classes. We cannot lose the opportunity to keep the knowledge of the woods in the hearts and minds of the next generations. Read the books, and open up your mind to the magic that surrounds us all, then pass it on!" ~Carrie Stone, Girl Scout leader and guest speaker at schools and scout camps.
To hear an interview with Mark Warren on Secrets of the Forest Volume 1 conducted by Lois Reitzes from WABE's "City Lights" program, click here!
For orders of 1-5 books, you may pay by credit card or Paypal below. For orders of 6 or more books or for non-profit (tax free) groups, please contact Mark by email at medicinebow(at)att.net
Order your signed copies today!
Please note, we do not ship outside of the contiguous United States.
Order all four books in the series and receive a free frameable poster (11 X 17) of "Prayer to the Nine Directions" (an original drawing and composition by the author).
Read a Review by Survival Sherpa here: "Secrets of the Forest: The Best Outdoor Education Book I've Read"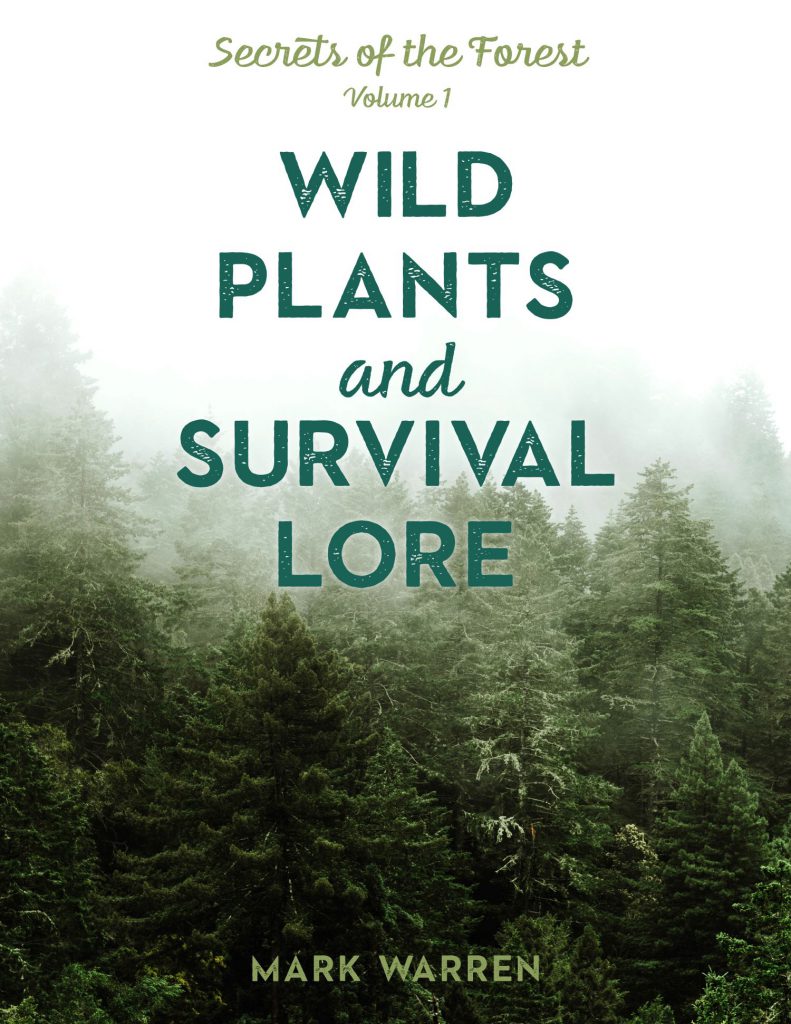 Secrets of the Forest Volume 1: Wild Plants and Survival Lore – By Mark Warren Part One (The Magic and Mystery of Plants) covers 100 plants and their uses as food, medicine, cordage fibers, insect repellency, and craft materials. This study of plants is the essential foundation for a true understanding of the skills that follow. Part Two (The Lore of Survival) covers shelter-building, water acquisition & purification, primitive cooking, rope-making, baskets, clothing insulation, rabbit stick technique, traps & snares. Over 200 hands-on projects.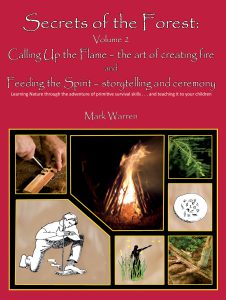 Secrets of the Forest Volume 2: Calling Up the Flame – the art of creating fire and Feeding the Spirit – storytelling and ceremony By Mark Warren
Part One (Calling up the Flame) covers match use (for young ones), pyre-building, fuel species, fire-making species, bow-drill, hand-drill, fire-saw, and fire-banking. Part Two (Storytelling & Ceremony) explores the use of stories and ceremony in creating the whole person. Some of this content is borrowed from Native American philosophy and adapted for contemporary application by all ages. Over 100 hands-on projects!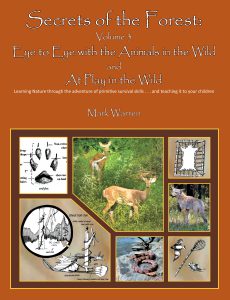 Secrets of the Forest Volume 3: Eye to Eye with the Animals in the Wild and At Play in the Wild, by Mark Warren
Part One (Eye to Eye with the Animals of the Wild) If you have ever wanted to learn how to approach wild animals as a stalker…or track them using the knowledge of animal gaits and species-varying footprints…the lessons here are detailed and comprehensive. Also included are the old ways of converting animal skins or pelts into usable leather for crafts. One beautifully photographed chapter reveals the truth about our snakes of the Southeast. (They are not who most people think they are.) Finally, part two reveals adventure games and quiet but fascinating entertainment around the campfire. All of these games – which became Medicine Bow staples – are responsible for countless, fearful young students learning to feel at home in the woods. Over 150 hands-on projects."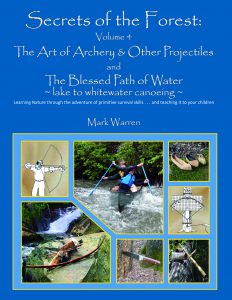 Secrets of the Forest Volume 4: The Art of Archery and Other Projectiles and The Blessed Path of Water – lake to whitewater canoeing, by Mark Warren
Part One (Projectiles) covers making and using the sling, throwing-spear, atlatl, and bow & arrow. Also included are the steelier implements – throwing-knife and tomahawk. Most important in this volume is the art of archery – the refined, handed-down techniques for shooting a bow and arrow accurately, consistently. This section has been called by experts the most comprehensive lesson for bow and arrow yet to be published. Part Two (The Blessed Path of Water) explores the dynamics of the open canoe, beginning on calm water and graduating to whitewater. Over 150 hands-on projects.
For orders of one to five books, you may pay by credit card below. For orders of 6 or more books or for non-profit (tax free) groups, please contact Mark by email at medicinebow(at)att.net
The New Secrets of the Forest Books are Available Everywhere Books are Sold.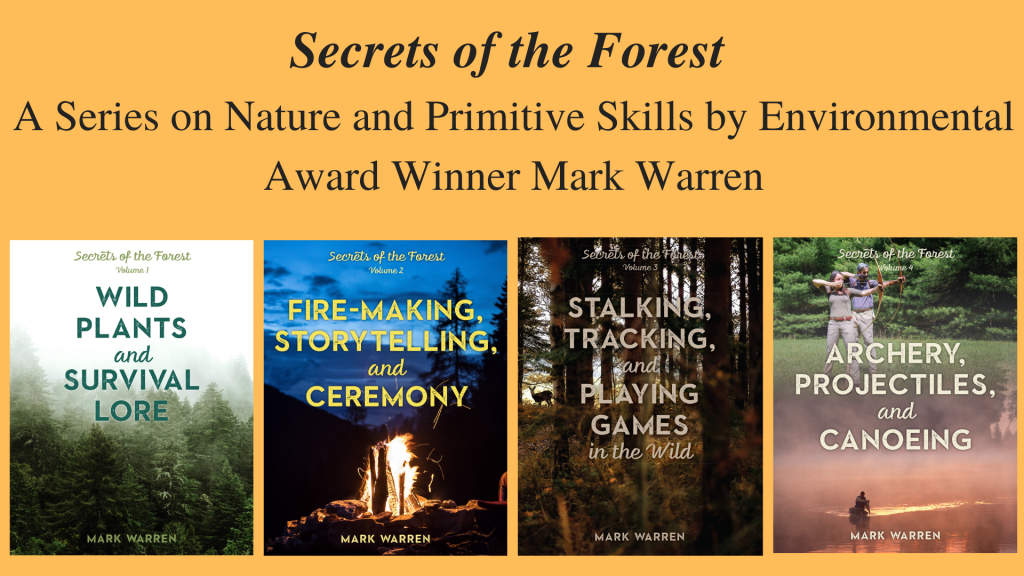 Click here for a list of books that Mark recommends to his students for additional reading.
Would you like to sign up for Mark Warren's mailing list? Enter your information on the "Subscribe" link below to receive occasional emails about classes, book releases, events, articles and blog posts. The mailing will come from medicinebow(at)att.net, so be sure to add that email to your safe senders list. Thanks for signing up!