Fall/Winter 2018/2019 Calendar of Events at
MEDICINE BOW
---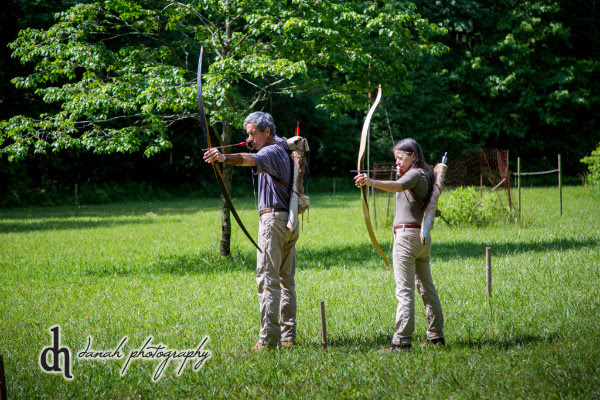 [Private classes also available at Medicine Bow or at the site of your choice.]
Pre-registration is required for all events.
SEPT. 2 – ARCHERY RENDEZVOUS – Not a class of instruction, but fun and adventure for archers of varying skill levels using a handicap system to win the SILVER ARROW. An excellent family opportunity, 1 pm – 4 pm.  $10 per person  (bow/arrow rental add $10 per bow)
SEPT. 8-9 – DAHLONEGA TRAIL FEST – A celebration of the Appalachian Trail and those who walk it. Held just a block north of Dahlonega Square. Meet outfitters, gear vendors, authors, and hikers. Enjoy workshops, speakers, music, and food. Mark Warren presents a talk called "Survival Tricks of the Trail" and leads a walk called "Plants of the Cherokee."   Free of charge.
SEPT. 16 – THE ART OF ARCHERY – Learn the best blend of Native American, Old English, and modern styles. For ages 10 to 110 and all skill levels. Learn the melding of strength and grace known to the best archers of history. Taught by 1999 World Longbow Champion. Archery gear provided or BYO.      $80
OCT. 14 – ARCHERY RENDEZVOUS – (see above at Sept. 2)     $10
OCT. 27 – THE PLANTS OF AUTUMN – A field study of the medicinal, edible, and crafting plants of Southern Appalachia.   $75
NOV. 2-4  – HEMLOCKFEST –A family event with live music, educational tours, camping, lake canoeing, knife throwing, arts and crafts, and more at Starbridge retreat outside Dahlonega. (see www.hemlockfest.org for price and dir.) Mark Warren will lead walks on the Cherokee uses of plants.
NOV. 17 – CHEROKEE STALKING – Learn the discipline for approaching wild animals undetected, whether for photography, hunting, or observing.       $65
NOV. 17 – PLAINS INDIAN SIGN LANGUAGE – An evening class inside Medicine Bow Lodge to learn the skill of speaking with your hands. Bring a friend, so you'll have someone in your life with whom you can sign.   $20 per person
NOV. 18 – ARCHERY RENDEZVOUS – (see above at Sept. 2)     $10
DEC. 1 – THE ART OF ARCHERY – (instruction, see above Sept. 16)     $80
DEC. 8 – MAKING FIRE BY THE HAND DRILL – Learn the oldest method of creating fire by friction, the Indian way.    $70
DEC. 9 – ARCHERY RENDEZVOUS – (see Sept. 2)     $10
JAN. 5 – TRACKING – Learn the prints, gaits, and track patterns of the animals of Appalachia and how to read and follow a trail.   $65
JAN. 13 – ARCHERY RENDEZVOUS –    (see Sept. 2)   $10
JAN. 26  – KNIFE & HAWK – Learn to throw knife and tomahawk.  Projectiles provided or bring your own.   $70
JAN. 26 – 8th Annual SPELLING/VOCABULARY BEE – An evening event in Medicine Bow Lodge inviting all who love the words of the English language. First prize: Free workshop at Medicine Bow.    $8 per person
FEB. 2 – THE ART OF ARCHERY – (instruction, see Sept. 16)      $80
FEB. 10 – ST. VALENTINE'S ARCHERY RENDEZVOUS – Bring your archer paramour, or come find a handsome hero/heroine companion. Archer teams compete for a Valentine treasure.    $10 (add $10 for bow/arrow rental)
FEB. 16 – A WALK IN THE WINTER WOODS – A multi-themed study of plants, birds, ecology, wildlife & their tracks and scat, trees, edibles, medicinals, and Cherokee survival secrets. Appropriate for the ambulatory elderly.    $60
MAR. 2 – A STUDY OF WINTER TREES – Learn to identify trees by bark patterns, leaf scars, growth characteristics, winter remnants, and habitat. Learn Cherokee uses of trees as foods, medicines, and craft materials.     $60
MAR. 10 – ARCHERY RENDEZVOUS    ( see Sept. 2 )    $10
******************************************************************
To Sign Up For a Class
Reserve your spot by email or phone, then mail a check or money order made to: Medicine Bow, Ltd.,  104 Medicine Bow, Dahlonega, GA 30533. Each class is filled to its limit by a first-come-first-served receipt of check. Email: medicinebow@att.net or call 706-864-5928
Cancellation Policy
For a cancellation 7 full days before class, fee is returned in full.  Cancellation by 4 full days before class, 50% returned or 60% applied to future workshop.
 ~ Coming this fall . . . two new books ~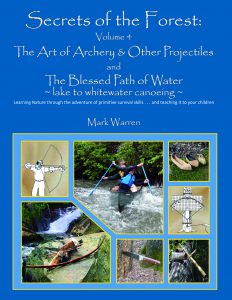 The 4th and last volume of the Secrets of the Forest series for parents, teachers, & survival students: The Art of Archery & other projectiles and The Blessed Path of Water, lake to whitewater canoeing by Mark Warren. Available in October at www.secretsoftheforestbook.com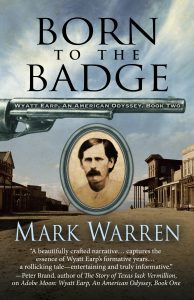 Mark Warren's trilogy Wyatt Earp, an American Odyssey debuted in Nov. 2017 with Adobe Moon. The 2nd book, Born to the Badge, comes out on Nov. 21, 2018. Pre-order now through independent booksellers everywhere, Barnes & Noble, and Amazon.