Fall 2019 and Winter 2020 Calendar of Events at MEDICINE BOW
teaching Native American survival skills & Earthlore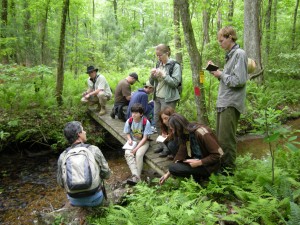 Classes for all ages taught by Mark Warren
medicinebow@att.net,
706-864-5928
[Private classes also available at Medicine Bow or at the site of your choice.]
Pre-registration is required for all events.
~ Classes for all ages taught by Mark Warren
Pre-registration is required for all events unless otherwise noted.
www.medicinebow.net
AUG. 31 – A WALK IN THE SUMMER WOODS – A multi-themed study of wildflowers, insects, birds, creek life, wildlife, tracks, trees, edible and medicinal plants, scat, and Indian secrets relating to survival. Appropriate for ambulatory elderly.            $60
SEPT. 7 – 8  – DAHLONEGA TRAIL FEST – A celebration of the Appalachian Trail and those who walk it. Held just a block north of Dahlonega Square. Meet outfitters, gear vendors, authors, and hikers. Enjoy workshops, speakers, music, and food. Mark Warren presents a talk called "Survival Tricks of the Trail" and leads a walk called "Through the Eyes of the Cherokee." Go to www.dahlonegatrailfest.org  Free of charge.
SEPT. 15 – ARCHERY RENDEZVOUS – Not instruction, but fun and adventure for archers of varying skill levels using a handicap system as they vie for the SILVER ARROW. Excellent family opportunity, 1– 4 pm.  $10 per person  (bow/arrow rental add $10 per bow)
OCT. 6 – ARCHERY RENDEZVOUS – (see above at Sept. 15)   $10
NOV. 1 – 3  – HEMLOCKFEST –A family event with live music, educational tours, camping, lake canoeing, knife throwing, arts and crafts, and more at Starbridge Retreat outside Dahlonega. (See www.hemlockfest.org for price and directions.)
NOV. 23 – THE ART OF ARCHERY – Learn the best blend of Native American, Old English, and modern styles. For ages 10 to 110 and all skill levels. Learn the melding of strength and grace known to the best archers of history. Taught by 1999 World Longbow Champion. Archery gear provided or BYO.    $80
NOV. 24 – ARCHERY RENDEZVOUS – (see above at Sept. 15)   $10
DEC. 7 – CHEROKEE STALKING – Learn the discipline for approaching wild animals undetected, whether for photography, hunting, or observing.          $65
DEC. 14 – PLAINS INDIAN SIGN LANGUAGE – An evening class inside Medicine Bow Lodge to learn the native skill of speaking with your hands. Bring a friend, so you'll have someone in your life with whom you can sign.  $20 per person
DEC. 15 – ARCHERY RENDEZVOUS – (see Sept. 15)    $10
DEC. 28 – MAKING FIRE WITH THE BOW DRILL – Learn to create fire by friction, the Indian way.   $70
JAN. 11 – THE ART OF ARCHERY – (instruction, see above Nov. 23)    $80
JAN. 19 – ARCHERY RENDEZVOUS –    (see Sept. 15)   $10
JAN. 19 – 9th Annual SPELLING/VOCABULARY BEE – An evening event in Medicine Bow Lodge inviting all who love the words of the English language. First prize: Free workshop at Medicine Bow.  $5 per person
FEB. 8  – KNIFE & HAWK – Learn to throw knife and tomahawk.  Projectiles provided or bring your own.    $70
FEB. 16 – ST. VALENTINE'S ARCHERY RENDEZVOUS – Bring your archer paramour, or come find a handsome hero/heroine companion. Archer teams compete for a Valentine treasure.  $10 (add $10 for bow/arrow rental)
FEB. 29 – A STUDY OF WINTER TREES – Learn to identify trees by bark patterns, leaf scars, growth characteristics, winter remnants, and habitat. Learn Cherokee uses of trees as foods, medicines, insect repellents, and craft materials.  $65
MAR. 7 – THE ART OF ARCHERY – (instruction, see Nov. 23)   $80
 TO SIGN UP FOR A CLASS
Reserve your spot by email or phone, then mail a check or money order made to: Medicine Bow, Ltd. 104 Medicine Bow, Dahlonega, GA 30533
 POLICY
Each class is filled to its limit by a first-come-first-served receipt of check made payable to:  MEDICINE BOW,  LTD.  A check received after a class fills is, of course, returned in full.  A cancellation 7 full days before class also returned in full.  Cancellation by 4 full days before class, 50% returned or 60% applied to future workshop.
 Book and Lecture Events
********************************************************************
September 26 – Smith-Gilbert Gardens in Kennesaw, GA – Mark will present "The Ancient Ways of the Cherokee."  These beautiful gardens are the site of the historic Hiram Butler home. With many unique plantings and 31 sculptures, there is something here for everyone. Find out more here!
October 19 – Tombstone Courthouse Museum, AZ – Mark's heading West, and the first stop along the way is Tombstone Arizona, the site of the infamous gunfight near the OK Corral. Mark will present "What Made Wyatt Earp Tick?" at this historic courthouse  which is now a museum and state park.  Check out the event details here!
October 22 – Arizona History Museum in Tucson, AZ – Join us for an in depth discussion on the life of Wyatt Earp. Warren's 63 years of research from Georgia to California reveals why this famous American lawman is admired by some and detested by others.  Click here for all the details!
October 23 – Arizona Heritage Center in Tempe, AZ – Are you a fan of Western history? Come on out to the Arizona Heritage Center for  a slide presentation on the research behind Warren's "Wyatt Earp, An American Odyssey" trilogy. Here's the link for the program!
October 24 – Prescott Public Library, AZ – Visiting those places where the Earps lived and worked, Mark will be presenting in Prescott, AZ. Join us to discover "What Made Wyatt Earp Tick?"  and find out the true story behind our most famous frontier lawman. Get more info here!
October 25 – Western Spirit, Scottsdale's Museum of the West, AZ – Mark is honored to present at this beautiful museum in Scottsdale, Arizona, voted one of the top ten Western museums in the country. Join us for a discussion spanning 63 years of research into the life of Wyatt Earp. Get the details here!
October 28 – Cherry Hills Library in Albuquerque, NM – Presenting "The Rocky Road of Researching Wyatt Earp." Come on out and join in the discussion. Find out the real reasons behind the gunfight behind the OK Corral and the resulting vendetta ride. Click here for event details!
October 29 – Collected Works Bookstore in Santa Fe, NM – Join us in bustling art community of Santa Fe, New Mexico, which is situated in the picturesque foothills of the Sangre de Cristo Mountains. Mark will present "What Made Wyatt Earp Tick?" at Santa Fe's oldest locally owned bookstore. Here's the scoop!
November 2 – Amarillo Public Library in Amarillo, TX – After 63 years of research, Mark Warren presents the true story of Wyatt Earp. Join us for a slide presentation on all things Earp! Get the details here.
November 5 – Dodge City Public Library in Dodge City Kansas – Dodge City was the "Queen of the Cowtowns," and the place where Wyatt Earp's reputation as a lawman solidified. Join Mark to find out the "real" story on Wyatt Earp. Check it out here!
November 7 – Boot Hill Museum in Dodge City, KS – Join us on Front Street to hear the exciting story of the rough and rowdy cattle town, Dodge City! Then join Mark for a slide presentation of all things Earp.  Find out more here!
November 9 – Old Cowtown Museum in Wichita, KS – One of the top ten Western museums in the country gives us an authentic look at the 19th century frontier West. Join Mark as he reveals the true nature of Wyatt Earp and explains why he has deservedly entered the pantheon of American heroes. Here's all the info!
November 10 – Milford Nature Center in Junction City, KS – Mark couldn't help but offer some nature events on his Western book tour for his friends in Kansas. This program at Milford Nature Center will cover the art of stalking for nature observers, photographers or hunters. Get the scoop here!
November 11 – The Forest School at Tall Oaks Conference Center in Linwood, KS – Have you ever been curious about learning Native American Sign Language? Signing with friends and family can be a fun and introspective activity whether it be in your regular daily lives or on an exciting forest adventure. Find out more information here!
November 12 – Prairie Park Nature Center in Lawrence, KS – Did you know that "Ceremony" can be an important part of environmental education and personal self-improvement? Join us to learn more about how you can incorporate ceremony into your life or your teaching. Get more information here!
November 13 – Topeka and Shawnee County Public Library in Topeka, KS – Many young folks today don't know who Wyatt Earp was, yet he is our most famous American frontier lawman. And some people may know only the movie version of this complicated man. Join Mark for a slide presentation on Wyatt Earp and find out the good, the bad, and the controversial. More info here!
December 3 – Post Road Library in Cumming, GA – Join Mark as he presents "The Cherokees of Southern Appalachia." This program reveals how the land of Southern Appalachia dictated the culture of the Cherokees, and it includes a great deal of show-and-tell, items brought by the presenter to share with the audience. All the info is here!
Thank you for your support! I look forward to seeing you!
If you have enjoyed reading my books, I hope you will post a review on Amazon, Barnes & Noble, Goodreads, and/or Facebook. It really helps out. Thank you!