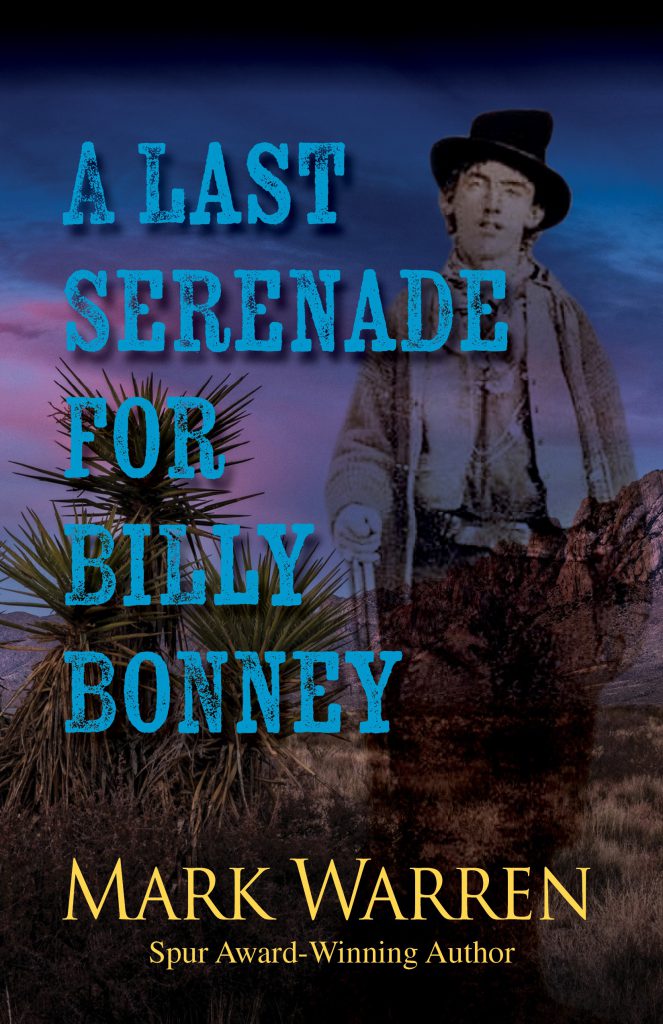 In this deeply researched novel of America's most celebrated outlaw, Mark Warren sheds light on the human side of Billy the Kid, and reveals the intimate stories of the lesser-known players in his legendary life of crime. Warren's fictional composer and Santa Fe journalist, John Blessing, is assigned to report on a jailed prisoner who calls himself "Willima H. Bonney," but what begins as a formal interview evolves into an unexpected relationship and a self-examination of Blessing's own cultured, city values.

After the Kid's death, Blessing embarks on a journey to find Billy's comrades and acquaintances – those who loved the Kid . . . and others who despised him. Through the reporter's interviews, the reader is exposed to the historical events and the influential people who helped to shape the Kid's life.

Was Billy Bonney a cold-blooded killer without a conscience, or was he a victim of the machinations of corrupt politicians in "the Santa Fe Ring"? Ride along with John Blessing as he unravels one of Western history's most fascinating enigmas.

At the story's end, the journalist, John Blessing, reveals the completed song he has written to honor Billy. The words and music comprise the last pages of the book. (Ask a musician friend to play it for you.)
Reviews for A Last Serenade for Billy Bonney
". . . with Warren's exceptional gift of creative writing, he has gotten inside the possible personality of this legendary outlaw." ~Denise F. McAllister, Co-Author of the Wild Cow Ranch series. Quoted from True West Magazine
"A page-turner of a book . . . readers will find excitement on every page." ~ Roy B. Young, Publications Editor, Wild West History Association and co-author of Chasing Billy the Kid
"Rich with conflict, wistfulness, and an appropriate sense of foreboding." ~ James B. Mills, author of Billy the Kid, El Bandido Simpatico
"Well, Mark Warren has done it again. Stetson's off for this novel. It is so well written that this reviewer read it three times. Buy it, read it, and you will come away with the distinct impression: if it ain't true, it oughta be." ~ Scott Dyke, Green Valley News
Order your signed copy below. Please note that we do not ship outside of the contiguous United States. Outside of the U.S.A., orders may be placed through Amazon and other online bookstores.
**Clicking on the link below will take you to a secure site for payment by credit card or Paypal.
Some of the books below are in (HB) – Hardback, and some are in (PB) – Paperback. "Wyatt Earp, An American Odyssey" is offered in both HB and PB. Book one – "Adobe Moon" or "The Long Road to Legend." Book two is entitled "Born to the Badge," and book three is "Promised Land" or "A Law Unto Himself."
Win a copy of my Billy book on Goodreads! Running now through August 3rd.
Are you on Goodreads? Add A Last Serenade for Billy Bonney to your shelf and follow my author page to find out what I am reading and recommending!
Are you interested in the excellent non-fiction work that has been published on this fascinating young man, Billy the Kid? Check out my page on Shepherd.com for more information.
Mark Warren is a Western historian who has deeply researched the life of Billy Bonney. He offers a fascinating lecture on the life of Billy entitled OUR FAVORITE OUTLAW OF THE AMERICAN WEST.

To book Mr. Warren for a lecture/author event, contact his publicist, Susan Brown at markwarrenbooks(at)att.net. To view additional lecture topics, click here!