Gulf Coast News Today on the Earp books!
Wyatt Earp, An American Odyssey Book 1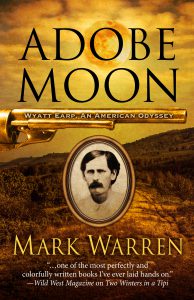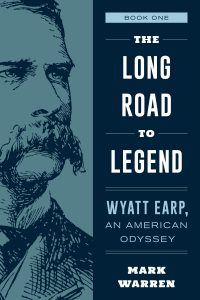 Adobe Moon or The Long Road to Legend Mark Warren's first book in a trilogy on Wyatt Earp is more than historical fiction. Though it is a period piece of the 19th century, it is a timeless story that relates to all of us. Adobe Moon was named a 2017 "Must Read" by Wild West Magazine.
History almost never knew Wyatt Earp. He was on a course to become a family man in a small Missouri town, but when his wife and child died … everything changed. Wyatt spiraled downward into a darker side of humanity, was arrested four times, and endured the squalor of the brothels in the notorious waterfront district of Peoria, Illinois. For 145 years this period of his life was kept a secret from his biographers.
What pulled him away from this self-destructive path? What event transformed Wyatt Earp and allowed him to emerge as a paragon of law, order, and justice? Learn more about the real man in Mark's trilogy, Wyatt Earp, An American Odyssey.
Reviews:

"It is plain Mark Warren knows Wyatt Earp's story.  He has researched it long enough, deep enough, and well enough to know it in ways that few others do. Adobe Moon is an absorbing read.  Understated, direct, yet somehow reflective and even philosophical, it is easy to forget that this is a novel about an American legend.  And that makes it all the more satisfying in the end.  In the restless ramblings of the young Wyatt Earp, Warren found clues to the man Earp would be.  I will be looking forward to the continuing odyssey of the very human Wyatt Earp he is revealing.  For now, I have much to ponder as a result of reading Adobe Moon." ~ Dr. Gary Roberts, Emeritus Professor of History, Abraham Baldwin College, author of Doc Holliday, the Life and Legend, Wiley and Sons, 2006.
"Warren stays close to history, adding the emotion and sensitivities that we can only wish we actually knew. This wonderfully written work makes readers feel almost as if they are sitting next to Wyatt on that brothel barge on the Illinois River, enjoying the treats of the time. Historical fiction can be a delight, and Warren delivers." ~ Casey Tefertiller, author of Wyatt Earp, the Life Behind the Legend, Wiley and Sons, 1997, quoted from Wild West magazine, Oct. 2017
"Mark Warren captures the essence of Wyatt Earp's formative years in this beautifully crafted narrative. Adobe Moon transports the reader to the early western frontier that shaped the legendary lawman's character and delivers a rollicking tale – entertaining and truly informative."  ~ Peter Brand, author of The Story of Texas Jack Vermillion (2012)
"Mark Warren's Wyatt Earp trilogy is a trip back in time. Part Gary Roberts, part Larry McMurtry, Mark brings Wyatt Earp to life in three richly detailed, well researched books. His exploration weaves a tale between a lesson in history and a masterpiece novel. These astonishing books are an absolute must for your library." ~Eddie Lanham, Western Researcher and Historian
"Adobe Moon is no ordinary Western. This one is special. Many fictionalized versions of Wyatt Earp's story have been written . . . most, however, are largely ignored by the historical community . . . (but this one) has proven to be the exception to the rule. Adobe Moon is an engrossing ride with Wyatt Earp. My only criticism is the next book (in the trilogy) isn't out quick enough." ~ Erik J. Wright, Author, Western Historian and Assistant Editor of The Tombstone Epitaph National Edition. Quoted from The Epitaph.
Wyatt Earp, An American Odyssey Book 2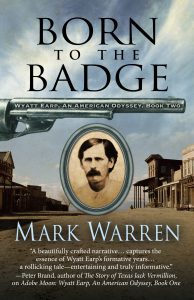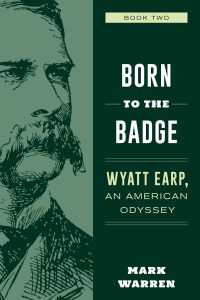 Born to the Badge is the second book in Mark Warren's trilogy on the life of Wyatt Earp and covers Wyatt's Kansas years. Born to the Badge was honored as a "2019 Spur Award Finalist!"
In Born to the Badge Wyatt Earp builds his reputation as a Kansas peace officer in the storied towns of Wichita and Dodge City. Known for his straight-ahead, no-nonsense demeanor he is both admired and hated, yet respected by almost all who cross his path. His story broadens with the complications of relationships, one with a common-law wife who struggles to overcome her past as a prostitute … the other with a mercurial but loyal Doc Holliday, the tubercular Georgia dentist who knows that he is condemned to a short life. Still pursuing his dogged fix on becoming something more than a foot-soldier for a town government, Wyatt refines his skills at the gambling tables and bides his time, never realizing that he is moving toward the legend status that awaits him in Arizona.
Reviews for "Born to the Badge"
In 1896, Ed Colburn, who had been a Dodge City attorney during that town's turbulent early years, remembered Wyatt Earp:  "While there (Dodge City), I saw Wyatt Earp do things you wouldn't undertake for a million dollars, and yet he did it every day just as a street car conductor rings up fares or a banker receives deposits."  In "Born to the Badge" Mark Warren follows Earp through the Kansas cow-towns where he first makes a name for himself.  They still talk about Wyatt Earp in Wichita and Dodge City.  After reading this book, you'll understand why. ~
Jeff Morey, Historical Consultant for the movie "Tombstone."
"Mark Warren is the first writer to illuminate the Earp story from the inside.  Adobe Moon and Born to the Badge show you why Wyatt Earp became a legend and what that legend was born out of."  ~Allen Barra, author of Inventing Wyatt Earp, his Life and Many Legends.
"Not every writer understands that the most important line in any book is the hook – that opening sentence which grabs your attention and makes you eager to read on. Born to the Badge opens with the following line: 'Wichita, Kansas, was hell in the making…' and there I went – engrossed for hours…Warren is able to convey scenes with a cinematic clarity. In this way, I can see the store room lit by the warm glow of a single lantern; and the prairie crossing at night, guided solely by the stars above and the subtle shapes of the land smudged on a distant horizon" ~Peta Stevalli, New Zealand Booklovers
"Warren's novel paints a vivid picture of the lawlessness of the American Frontier…Although this book is a fictionalized account, its dedication to facts will keep history buffs satisfied, and its colorful similes will put a smile on any genre-fiction lover's face." ~ Booklist
"Historian Mark Warren's second volume in his trilogy on the life and times of Wyatt Earp is an excellent story of Earp's adventures and misadventures in Kansas, the Dakotas, and Texas. The dialogue is virtually true to life and gives the feeling the author must have been present when the words were originally spoken.  This volume has been anticipated and meets all expectations.  Whether one is new to the story of Wyatt Earp or a seasoned historian of the Wild West, there is something here for everyone who loves stories of adventure, law and order, and life on the western frontier of the 1870s.  A most worthwhile contribution to the story of "Wyatt Earp, Wyatt Earp, Brave, Courageous, and Bold!" ~ Roy B. Young, author and Western historian, Wild West History Association
Wyatt Earp, An American Odyssey Book 3
A 2020 Will Rogers Medallion Award Winner, and an "Editor's Choice" by the Historical Novel Society.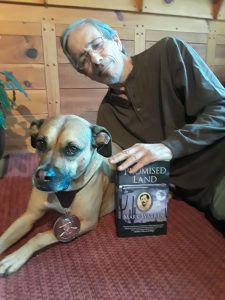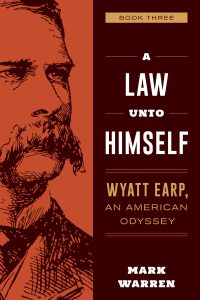 Promised Land and A Law Unto Himself is the third book of Mark Warren's trilogy on the life of Wyatt Earp. The final installment in the trilogy covers Wyatt's Tombstone years, the famous gunfight near the OK Corral, and the ensuing "Vendetta Ride." 
About the Book – 
Reviews:
"Promised Land and its two precedent books bring a delightful new flavor to a well-chewed subject.  [Wyatt] Earp and the surrounding cast spring to life with a well-written text that allows for a humanization of the West's most famous confrontation. The conversations meld and ring true, as if Warren was there with pen in hand. The dialogue and personal emotions of the Tombstone cast are splendidly done, leaving this reviewer with the thought that if it ain't true, it oughta be." ~ Scott Dyke, Green Valley News and Author of the Column Meandering the Mesquite
"Wyatt Earp was famous for not saying much, and, respecting the privacy of the man, Mark Warren rarely delivers the kind of long inner monologue than can reveal character. Yet there are touches of poetry in the writing, as Warren delivers his trademark descriptions of the physical environment—the colors of a desert sunset or the scent of sage blown by a desert wind, which give a visceral sense to the man and his world, a place filled with physical sensation rather than emotional sensibility." ~ Victoria Wilcox, Western Historian, Author of the Award-Winning Trilogy The Saga of Doc Holliday
"Author Mark Warren debunks myths and busts through fanciful folklore in "Promised Land. . ." The Arizona Daily Star, Tucson, AZ
"[In Promised Land] Warren's masterful research and vivid descriptive skills again shine through as he wraps up his trilogy." Selected as "Editor's Choice" by the Historical Novel Society
"A good book offers the ultimate escape. It's armchair travel to those wild places of the imagination. And if the best of books allows us to escape to new realms, then I would have to say that Warren's books took me to places I had previously not expected to visit, but I'm really glad I went there." Peta Stevallai, New Zealand Booklovers
About the book: Drawn to the silver boom in Tombstone, Arizona Territory, Wyatt and his brothers start anew with aspirations to strike it big in business. Fate seems to have other plans for Wyatt, as he reverts to the foot-soldier status of a hard-nosed enforcer of the law. Enemy lines are drawn between the Earps and the cow-boy rustlers, finally culminating in the famed gunfight near the O.K. Corral. When the Earps prevail in this face to face battle, the cow-boys resort to midnight back-shooting, killing one Earp and maiming another. When the courts cannot adjudicate over perjuring outlaws, Wyatt Earp takes the law into his own hands and dispenses a personal justice that will elevate his name into American legend.
Order any three Westerns and receive a frameable print of the gunfight behind the OK Corral (an original illustration by the author 8 1/2 X 11 inches.)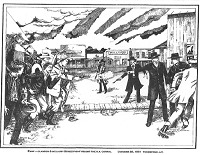 Ordering: Support your local Indie bookstore by purchasing Mark Warren's books there. If you prefer a signed copy, you may order directly from Mark.
*Please note that we do not ship outside of the contiguous United States. Use the drop-down menu to make your book choices. Clicking on "Add to Cart" below will take you to a secure site for payment by credit card or Paypal.
Some of the books below are in (HB) – Hardback, and some are in (PB) – Paperback. "Wyatt Earp, An American Odyssey" is offered in both HB and PB. Book one – "Adobe Moon" or "The Long Road to Legend." Book two is entitled "Born to the Badge," and book three is "Promised Land" or "A Law Unto Himself."
Would you like more information on non-fiction books about Wyatt Earp? Check out my suggestions here!
Mark Warren has two lecture programs on the subject of Wyatt Earp: The Rocky Road of Researching Wyatt Earp, and What Made Wyatt Earp Tick? For speaking inquiries contact his publicist, Susan Brown at markwarrenbooks@att.net or 706-864-5928
Are you on Goodreads? Add my books to your shelf and follow my author page to find out what I am reading and recommending.