The Westering Trail Travesties, a 2023 Will Rogers Medallion Award Winner!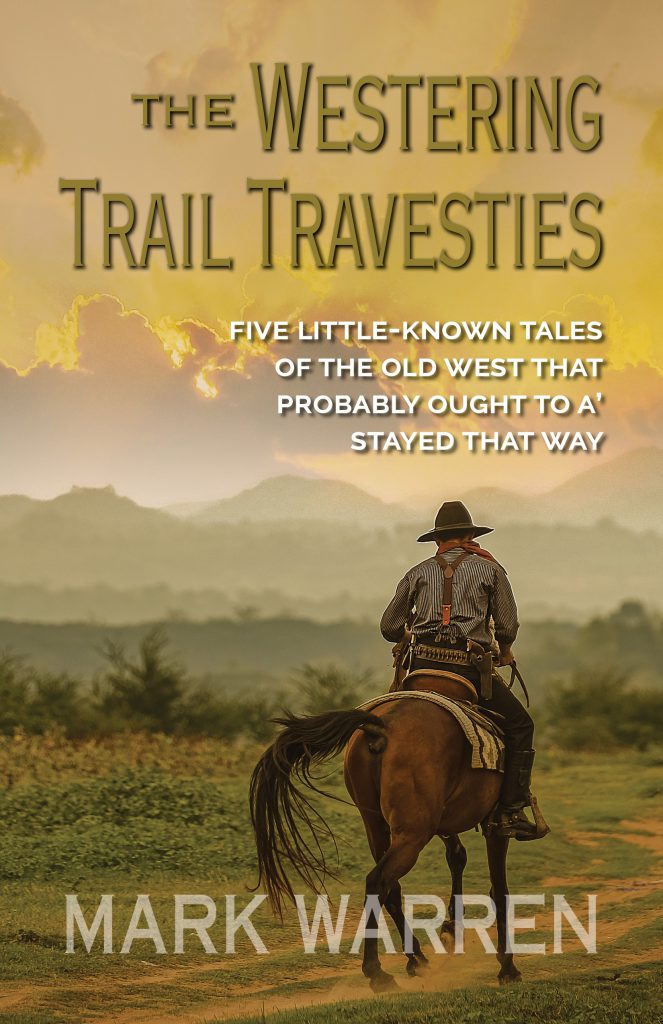 The Westering Trail Travesties ". . . deserves a place among the most highly regarded western fiction ever written. Warren is the western fiction author to watch." Erik Wright, The Tombstone Epitaph National Edition
These five stories range from the surreal to the tear – jerker, as the Old West is turned upside down by its boots and shaken until all common sense falls out into a crucible of parody.
In Rumors From the Edge of the World, Kid Concho and his Arizona outlaw gang of misfits stumble upon a phophetic Apache spring.
Too Long in the Saddle follows the exploits of a Boston newspaper reporter who is ordered on assignment to frontier Kansas.
Code of the Ranger travels with a quartet of Arizona Rangers who – without extradition papers – must ride undercover into Texas to bring back Bad Bob Banning. Once they capture him, can they make it out of Texas alive?
In Gourd, fourteen-year-old Curtis Blaydes loses his father and mother. Alone he continues to run the family homestead in the hinterlands of south Texas, until a visitor arrives.
Niobrara introduces a notable triangle of youngsters in northern Nebraska. When they grow older, the triangle breaks under the stress of divergent careers.
The Westering Trail Travesties made Booklist!
"Within his five distinct novellas, Warren (Song of the Horseman, 2021) develops a cast of memorable characters wandering through America's wide-open spaces: a smug Boston greenhorn floundering through Kansas; an Arizona ranger prowling around Odessa, Texas, pondering a morally questionable arrest; a weary, wayward woman given a chance at redemption on the Nebraska prairie. But it's Kid Concho, the picaresque protagonist of "Rumors from the Edge of the World," who steals the show. The plot is outlandish (Kid Concho and his crew visit a mountain-top spring, which displays visions of the future on its rippling waters; they proceed to misinterpret the images to disastrous effect). The malapropisms are groan inducing (translating shoo-in as moccasin-in to an Apache woman). Even though Kid Concho is an exaggerated outlaw, Warren emphasizes the character's delicate personal touches, like his beautifully stylized signature. Warren doesn't shy away from moments of tragedy—even deaths ostensibly written as comedic are still tinged with sadness. Warren's decision to end his book on an ambiguously hopeful note is distinct and appreciated."— Sarah Steers, Booklist
Ordering: Support your local Indie bookstore by purchasing Mark Warren's books there. If you prefer a signed copy, you may order directly from Mark.
*Please note that we do not ship outside of the contiguous United States. Clicking on the link below will take you to a secure site for payment by credit card or Paypal. Use the drop-down menu to make your book choice.
Some of the books below are in (HB) – Hardback, and some are in (PB) – Paperback. "Wyatt Earp, An American Odyssey" is offered in both HB and PB. Book one – "Adobe Moon" or "The Long Road to Legend." Book two is entitled "Born to the Badge," and book three is "Promised Land" or "A Law Unto Himself."
Are you on Goodreads? Add The Westering Trail Travesties to your shelf and follow my author page to find out what I am reading and recommending!
Would you like to book Mark Warren for an event? Contact his assistant/publicist Susan Brown at markwarrenbooks@att.net