Spring/Summer 2023 Calendar of Events at MEDICINE BOW
teaching Native American- survival skills & Earthlore
Classes for all ages taught by Mark Warren
104 Medicine Bow. Dahlonega, GA 30533
medicinebow(at)att.net  706-864-5928 
[Private classes also available at Medicine Bow or at the site of your choice.]
 ***Pre-registration is required for all classes.
April 29 – THE ART OF ARCHERY – A complete lesson from 1999 World Longbow Champion. For all skill levels, ages 8 to 108. Gear provided or BYO. $80
April 30 – ARCHERY RENDEZVOUS – For archers of all skill levels (except raw beginners), a fun and adventurous challenge to win the SILVER ARROW. 1 p.m. – 4 p.m. $10 per person: (bow rental add $10)
May 14 – ARCHERY RENDEZVOUS – (see Apr. 30) $10
May 20 – This class is full – THE WILD PLANTS OF SPRING – Learn to identify and use native plants as food, medicine, fire kit, insect repellent, and craft material. An important class for serious survival students. $70
June 3 – STALKING WILD ANIMALS – The Cherokee discipline for approaching wild animals undetected. For hunters, photographers, observers, and anyone seeking that quantum leap in the forest from visitor to participant. $65
June 17 – THE ART OF ARCHERY – (see April 29) $80
June 25 – ARCHERY RENDEZVOUS – (see Apr. 30) $10
July 8 – TRACKING – Learn the prints, gaits, and track patterns of native animals of Appalachia and how to track them. $65
July 23 – ARCHERY RENDEZVOUS – (see Apr. 30) $10
July 29 – KNIFE & HAWK – Learn to throw knife and tomahawk with power and accuracy. Weapons provided or bring your own. $65
August 5 – THE ART OF ARCHERY – (see April 29) $80
Aug. 19 – CREATING FIRE BY THE BOW-DRILL – Conjure up fire from dead wood using your handmade fire kit. Learn the species of trees that "swallowed fire" in the ancient days and the sources of tinder that are available even on wet days. $75
Aug. 26 – A STUDY OF SUMMER TREES – Identify trees by bark patterns, leaves, smell, limbs, and habitat. Learn their foods, medicines, cordage fibers, fire-kit use, insect repellency). Appropriate for ambulatory elderly. $65
Aug. 27 – ARCHERY RENDEZVOUS – (see Apr. 30) $10
[Private half day classes are available]
TO SIGN UP FOR A CLASS
Reserve your spot by email or phone, then mail a check or money order made to: Medicine Bow, Ltd. 104 Medicine Bow, Dahlonega, GA 30533
POLICY
Each class is filled to its limit by a first-come-first-served receipt of check made payable to:  MEDICINE BOW, LTD.  A check received after a class fills is, of course, returned in full.  A cancellation 7 full days before class also returned in full.  Cancellation by 4 full days before class, 50% returned or 60% applied to future workshop.
**************************************
Everything that Mark teaches can be found in his Secrets of the Forest book series. These books are available HERE and everywhere books are sold. These volumes share knowledge Mark has gained from more than 50 years of intense nature, and Native American studies, self-imposed survival trips, and teaching to thousands of students all across the country. If you are a student of the forest, primitive skills, survival lore, or a teacher of these subjects, these books were written for you (each book includes more than 100 detailed project descriptions.) And, if you are someone who enjoys reading about adventures in nature from the safe, dry space you call home, we think you will enjoy Mark's stories and personal adventures, many of which are included among these pages.
Secrets of the Forest, a teaching legacy, by award-winning naturalist Mark Warren.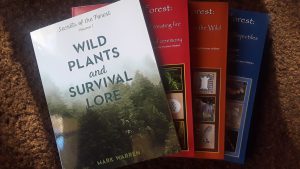 Would you like to sign up for Mark Warren's mailing list? Enter your information on the subscribe link below to receive occasional emails about classes, book releases, events, articles and blog posts. Thanks for signing up, and please know that we will never share or sale your information.