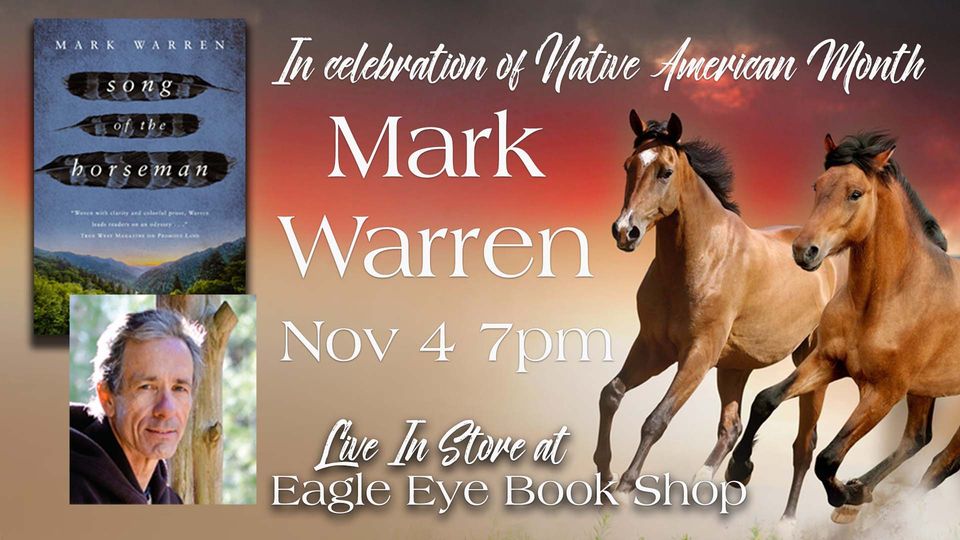 November 20 – Hosted by the Dunwoody Preservation Trust, Donaldson-Bannister Farm in Dunwoody GA – 9:30 AM – The Cherokees of Southern Appalachia – Join us to learn how the montane forest shaped the culture of these native people. This program will include a good deal of show-and-tell. Get more information here!
December 3 – The Booth Western Art Museum, Cartersville, GA – 11 AM – Presenting as guest historian, Mark will discuss The Cowboy's Place in America's Self-image. Georgians are lucky to have one of the finest Western Art museums in the country right here in Cartersville. Join us for The Booth Museum's December "Lunch and Learn".  Click here for more information and to sign up for this event!
January 13 – The Lumpkin County Library in Dahlonega, GA – 3:00 PM –Mark will speak on his new novel Song of the Horseman. Light refreshments will be served. This is a kickoff event for "Author Talks" by the new "Friends of the Library" group. If you are a Lumpkin resident, I hope you will join us to find out more about the "Friends of the Library," and Mark's newest novel about a Cherokee horse trainer. Check Mark's website or Facebook page in December for more details.
February 16 – Sharon Forks Library in Cumming, GA – 7:00 PM – Mark will give a photo presentation and talk on "Survival Tricks of the Trail." Join us to learn about some of our most common native plants and how they can be used for healing insect stings, food poisoning, nausea, and more. You will also learn about natural insect repellents found in nature. Save the date! Look for more information to come in January.
March 5 – West Georgia Chapter of the Georgia Native Plant Society at the Carrollton Agricultural Center – Mark will speak on "Designs in Nature." An in-depth look at how native plants (and some animals) evolved over time, and why they were successful. It will also cover human inventions that were inspired by some of the items that we will be studying. If you are in the Carrolton area, I hope you will join us. It will be a great opportunity to find out more about the GNPS. Look for more information to come in 2022.
Would you like to schedule Mark for a lecture or author event? Contact his assistant/publicist, Susan Brown, at markwarrenbooks@att.net. See Lecture Programs Here for more information on topics. 
Mark Warren's award-winning trilogy Wyatt Earp, An American Odyssey is now available in paperback everywhere books are sold. A perfect gift for those who enjoy historical fiction on the American West. Learn the true story behind Wyatt Earp, our most iconic American lawman.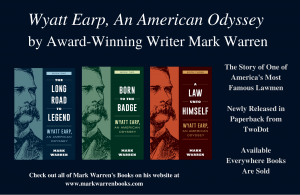 If you have enjoyed reading Mark's books, we hope you will post a review on Amazon, Barnes & Noble, Goodreads, BAM, and/or Facebook. It really helps out. 
If you are not familiar with Mark's books, you can find out more about them including book reviews, and interviews HERE!
Thank you for your support! 
Would you like to sign up for Mark Warren's mailing list? To receive occasional information on classes, book events and new book releases, enter your email below. These mailings will come to you from markwarrenbooks(at)att.net, so be sure to add this email to your safe senders list. Thank you!