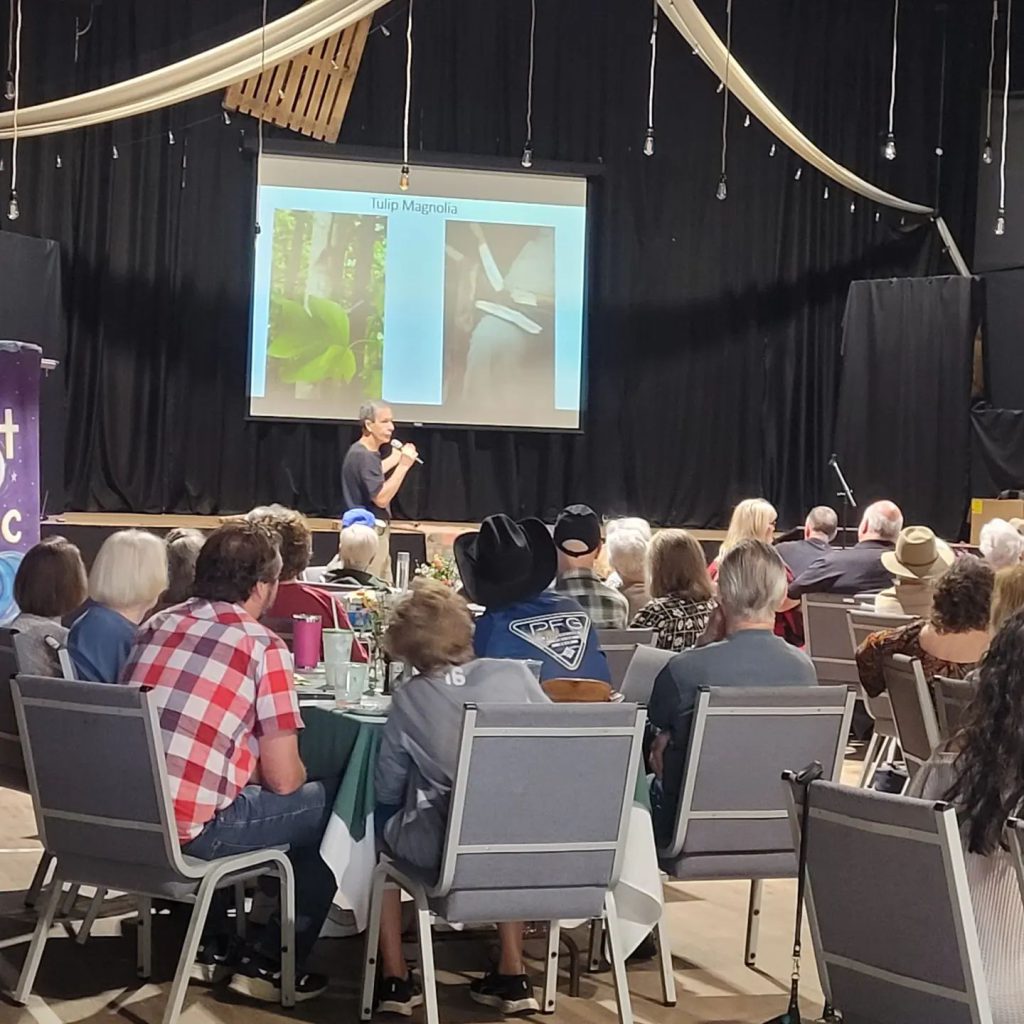 April 5 – Cartersville, GA – The Booth Western Art Museum – Join us for a lecture and book launch for Mark's latest historical fiction A Last Serenade for Billy Bonney. Billy the Kid, arguably the Old West's most famous outlaw, will be the fascinating subject of this talk and book celebration.  You can come early and enjoy lunch before the lecture, or just come for the program. Teaser: There will be a wonderful surprise at the end of the talk! Program information here!
April 15 – Atlanta, GA – Blue Heron Nature Preserve – Mark will present The Ancient Ways of the Cherokee. Learn how these native peoples used our common trees and plants for food, medicine and craft. Link to event here!
April 16 – Cumming, GA – Forsyth County Library – A photo presentation on Edible Wild Plants of Southern Appalachia. More information here!
April 22 – Ellijay, GA – Georgia Mountain Trails Festival – Mark will speak on "Survival Tricks of the Trail" and present a program, called "Through the Eyes of the Cherokee. Get the details here!
May 2 – Sautee Nacoochee, GA – Sautee Nacoochee Cultural Center – "Designs in Nature." More info to come.
June 9 – Blairsville, GA – UGA-Georgia Mtn. Research & Education Center – Mark will present, "Cherokee Medicines and How They Can Be Used Today" – Save the Date! More details to come.
July 15 – Cumberland Gap, TN – Tri-State Outdoor Fest – Mark will present on the main-stage and will also offer a walk and talk called Through the Eyes of the Cherokee. This will be a fun event! Save the date!
July 21 – Hayesville, NC – Moss Memorial Library – Mark will present Edible Wild Plants of Southern Appalachia. We hope you will join us. Stay tuned for details.
September 21 – Waleska, GA – Funk Heritage Center at Reinhardt University –  Mark will present a photo presentation on "Cherokee Medicines." More info to come!
Would you like to schedule Mark for a lecture or author event? Contact his assistant/publicist, Susan Brown, at markwarrenbooks(at)att.net. See Lecture Programs Here for more information on topics. 
Mark Warren's award-winning trilogy Wyatt Earp, An American Odyssey is now available in paperback everywhere books are sold. A perfect gift for those who enjoy historical fiction on the American West. Learn the true story behind Wyatt Earp, our most iconic American lawman.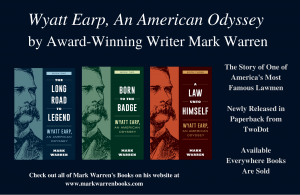 If you have enjoyed reading Mark's books, we hope you will post a review on Amazon, Barnes & Noble, Goodreads, BAM, and/or Facebook. It really helps out. 
If you are not familiar with Mark's books, you can find out more about them including book reviews, and interviews HERE!
Thank you for your support! 
Would you like to sign up for Mark Warren's mailing list? To receive occasional information on classes, book events and new book releases, enter your email below. These mailings will come to you from medicinebow(at)att.net, so be sure to add this email to your safe senders list. Thank you!