"I'd like to share with you some of my upcoming book events! I hope to see some familiar faces, and enjoy some great conversations with you!" – Mark
---
Mark's Blog: https://www.goodreads.com/author/show/672250.Mark_Warren/blog
May 24 – Forsyth County Library in Cumming from 7-8pm. Book: Adobe Moon. An evening talk about the "Old West" and it's iconic characters and legends. Was Wyatt Earp the hero that legend has taught us? Or was he the flawed character that some revisionist historians have suggested? Event detailsHERE!
June 16 – Barnes and Noble The Avenue at West Cobb from 2-4pm.Books Available: Adobe Moon and Two Winters in a Tipi. Come on out to the Barnes and Noble and do some last minute Father's Day shopping! Maybe even buy dad a copy of my new book on Wyatt Earp! Get the scoop HERE!
June 30 – "Another Chapter" Bookstore in Cumming from 1-3pm. I will be speaking on my new book "Adobe Moon, Wyatt Earp, An American Odyssey!" The real story of Wyatt Earp and why it is still relevant today. Then we can switch gears and I will be happy to take your questions on plants, survival skills and the "Secrets of the Forest" series. Both books will be available at this great, new independent bookseller in Cumming! Click HERE for more information.
September 15 – Atlanta Fulton Library, Ponce de Leon Ave. Branch from 1 – 2:30pm. This program is entitled "Rediscovering Nature Through the Eyes of the Adventurer." Join us to learn more about making connections in Nature for yourself and for teaching our youth of today. In 2005 Richard Louv coined the term "nature deficit" in his popular book "Last Child in the Woods." By using "Secrets of the Forest" as a learning/teaching tool, I think we can begin to close that gap. All 3 volumes will be available. Click HERE for more information.
Thank you for your support! I look forward to seeing you!
Secrets of the Forest


(4 volume series)
By Mark Warren
From the author: The Secrets of the Forest series was written with three purposes in mind:
1) To provide clear instructions in primitive survival skills for anyone wanting to better his/her self-sufficiency in wilderness . . . by learning the old Indian ways of living comfortably in the forest.
2) To offer parents, teachers, scout leaders, and outdoor educators a guide to engage their students in Nature . . . at a time when our young ones so desperately need this connection, as does Nature itself.
3) To win over a new generation of environmental advocates who will look after this world.
Review:
Secrets of the Forest: The Best Outdoor Education Book I've Read
(Review courtesy of Survival Sherpa)

Secrets of the Forest: the Magic and Mystery of Plants and The Lore Of Survival, Volume 1 – By Mark Warren
Part One (The Magic and Mystery of Plants) covers 100 plants and their uses as food, medicine, cordage fibers, insect repellency, and craft materials. This study of plants is the essential foundation for a true understanding of the skills that follow. Part Two (The Lore of Survival) covers shelter-building, water acquisition & purification, primitive cooking, rope-making, baskets, clothing insulation, rabbit stick technique, traps & snares. Over 200 hands-on projects.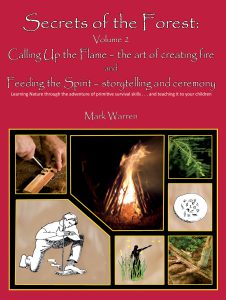 Secrets of the Forest: Calling Up the Flame and Feeding the Spirit, Volume 2 – By Mark Warren
Part One (Calling up the Flame) covers match use (for young ones), pyre-building, fuel species, fire-making species, bow-drill, hand-drill, fire-saw, and fire-banking. Part Two (Storytelling & Ceremony) explores the use of stories and ceremony in creating the whole person. Some of this content is borrowed from Native American philosophy and adapted for contemporary application by all ages. Over 100 hands-on projects.
Secrets of the Forest, Vol. 3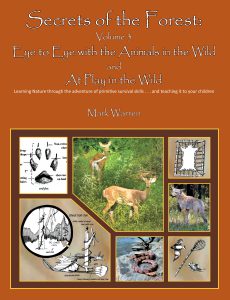 Part One (Eye to Eye with the Animals of the Wild) covers stalking animals of the wild, tracks & the rigors of tracking, hide-tanning & craft, and snake lore, which examines some of the myths that have grown up around these legless reptiles. Part Two (At Play in the Wild) covers games, some adventurous, some academic, and others for memorable nights around the campfire. All of these games – which became Medicine Bow staples – are responsible for countless, fearful young students learning to feel at home in the woods. Over 150 hands-on projects.
Secrets of the Forest, Vol. 4
Part One (Projectiles) covers making and using the sling, throwing-spear, atlatl, and bow & arrow. Also included are the steelier implements – throwing-knife and tomahawk. Most important in this volume is the art of archery – the refined, handed-down techniques for shooting a bow and arrow accurately, consistently. Part Two (The Blessed Path of Water) explores the dynamics of the open canoe, beginning on calm water and graduating to whitewater. Over 150 hands-on projects.
As of May 2018 volumes 1 – 3 are available for purchase.
For orders of 6 or more books contact Mark at medicinebow@att.net
——————————————————————————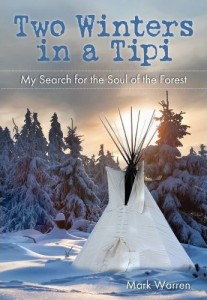 Two Winters in a Tipi: My Search for the Soul of the Forest. – By Mark Warren
Order Two Winters In a Tipi from Amazon.com Here
Check out Mark's Author Page on Amazon to order or review his books
A memoir: Follow the life of naturalist Mark Warren for the two years after his small farmhouse in the mountains of Southern Appalachia was struck by lightning. After losing his possessions in the devastating fire that followed, he embarked on a "simpler" life of accountability and appreciation, where every chore made perfect sense and every day carried the promise for intimacy with creatures of the wild.
As he continued his life work as an environmental educator, his tipi in the forest was more than the coziest of homes as it became a symbol of commitment for those who studied under his tutelage. This story offers the past, the parts, and practicality of the tipi, but more than that it offers inspiration for those who seek to understand the natural world as man was meant to know it.
Book review of Two Winters In a Tipi:
http://www.historynet.com/book-review-two-winters-in-a-tipi-by-mark-warren.htm
Review Two Winters in a Tipi on Amazon
——————————————————————————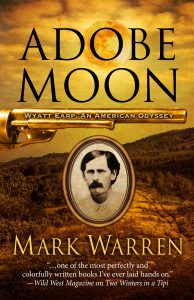 Wyatt Earp, an American Odyssey (a historical novel trilogy) – By Mark Warren
Book one (Adobe Moon) available in November, 2017 from Five Star Publishing
Order  Adobe Moon From Amazon.com Here
Check out Mark's Author Page on Amazon to order or review his books
Review From "Historical Novel Society"

Adobe Moon (Book 1)
After his youth on an Iowa farm, Wyatt Earp is ready to seek his fortunes by his wits
rather than the sweat of his back. In California he meets a Mexican girl, whose philosophy will haunt him for years to come. It is the prophecy of the "adobe moon," which reminds a man: If you do not achieve your dreams, you must settle for what you have.
After taking menial jobs, Wyatt settles down as a constable in Missouri. When his wife and child die, he sinks into depression where the lines of ethics blur. Wantedby the law he bides his time for a second chance, until in a Kansas cattle town he encounters his destiny as a lawman to be remembered.
Review of Adobe Moon by Dr. Gary Roberts, author of Doc Holliday, the Life and Legend:
"It is plain Mark Warren knows Wyatt Earp's story. He has researched it long enough, deep enough, and well enough to know it in ways that few others do. He has an historian's grasp of the story, and in Adobe Moon, Book One in a trilogy of historical novels entitled Wyatt Earp, An American Odyssey, he explores the formative years of Earp's life that displays an ability to make sense of the wanderings of the Earp family in a part of Wyatt's life too often given short shrift in the rush to reach Dodge City and Tombstone.
Adobe Moon is not about Wyatt Earp, the fearless, gunfighting marshal, or about Wyatt Earp, the cold-blooded killer hiding behind a badge, or even about Wyatt Earp, the self-aggrandizing con man who lied his way into legend—which have been the dueling images of Earp in most of the literature on the subject, fiction and non-fiction. Adobe Moon is about a boy growing into manhood and trying to make sense of his place in the world. It is a subtle admixture of his confidence, his insecurities, his feelings, and his responses to the forces around him.
Without making it a centerpiece of his story, Warren explores the complexities of his family, allowing the relationships to unfold in the natural flow of the story without intrusive commentary or analysis. The reader sees Wyatt's father, mother, and brothers through his eyes. The story is raw and hard most of the time, punctuated by circumstances that force him to make decisions. At times he is naïve and even insecure, but he faces choices decisively, if not always wisely. Most of the novel is set in boom towns or on the darker fringes of society from California to the "Hell-on-Wheels" towns of the Union Pacific Railroad to the saloons and brothels from river towns in Illinois to the cattle towns of Kansas.
Although Adobe Moon is fiction, it serves history in at least two ways. First, it carefully maps the young Wyatt Earp's movements in his early years with useful hypotheses about some of the more important events in his young life including his time in Peoria, Illinois, his tragic marriage to Aurilla Sutherland in Lamar, Missouri, his arrest in the Indian Territory for horse theft and his subsequent escape from jail, to his arrival in Ellsworth, Kansas, and the much disputed events that unfolded there.
The simple plausibility of his fictional narrative underscores a lesson that historians could well learn from. There are alternatives to the "good guy/bad guy" approach too often insisted upon in biographies that spend more time creating heroes and villains than in understanding their subjects. Here in Warren's novel the emphasis is plainly on the forces at play in making the man and the qualities of character that determined his responses at each turn of his "broken road" to legend. This is the story of a boy sorting through experiences and making choices, bad ones and good ones, that will determine the man he will be.
Adobe Moon is an absorbing read. Understated, direct, yet somehow reflective and even philosophical, it is easy to forget that this is a novel about an American legend. And that makes it all the more satisfying in the end. In the restless ramblings of the young Wyatt Earp, Warren found clues to the man Earp would be. I will be looking forward to the continuing odyssey of the very human Wyatt Earp, he is revealing. For now, I have much to ponder as a result of reading Adobe Moon."
Born to the Badge
(Book 2, coming in 2018)
Wyatt Earp builds his reputation as a Kansas peace officer in the storied towns of Wichita and Dodge City. Known for his straight-ahead, no-nonsense demeanor he is both admired and hated, yet respected by almost all who cross his path. His story broadens with the complications of relationships, one with a common-law wife who struggles to overcome her past as a prostitute … the other with a mercurial but loyal Doc Holliday, the tubercular Georgia dentist who knows that he is condemned to a short life.
Still pursuing his dogged fix on becoming something more than a foot-soldier for a town government, Wyatt refines his skills at the gambling tables and bides his time, never realizing that he is moving toward the legend status that awaits him in Arizona.
Promised Land
(Book 3, coming in 2019)
Hoping to start a stage line in the Arizona boom town of Tombstone, Wyatt casts his lot with his brothers as business entrepreneurs. Fate has other plans for the Earps. Serving as a deputy sheriff and then deputy marshal, Wyatt comes up against a network of rustlers/smugglers/stagecoach robbers who have run rampant on the Southwest unchallenged until now. When Wyatt finally accepts his calling as a lawman and makes his bid for the shrievalty of the new county that includes Tombstone, his plans unravel again with an unexpected confrontation behind the O.K. Corral. This fight sets off a chain reaction of assassination attempts on the Earps and ushers Wyatt into a bloody ride across the desert to pass judgment on the men who shot his brothers. Is it an act of justice or revenge? This is a debate that has survived into the twenty-first century.
____________________________________________________________
Meet the Author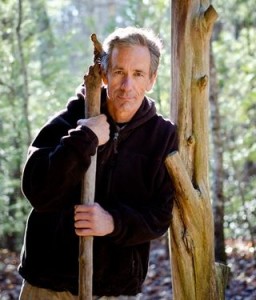 Mark Warren was named Georgia's Conservation Educator of the Year by the National Wildlife Federation. A national champion in whitewater canoeing and a winner of the World Championship Longbow Tournament, Warren founded and runs the Medicine Bow Wilderness School in the North Georgia mountains.