For a limited time only, read chapter one from Born to the Badge for free! (Scroll down to the bottom of the page to find chapter one.)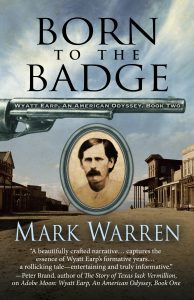 Born to the Badge is available from all major retailers, or by order through your favorite Indie bookstore.
***********************************************************************************
"Here are some of my upcoming book events! I hope to see some familiar faces, and enjoy some great conversations with you!" – Mark
---
December 15 – Barnes and Noble Hamilton Place in Chattanooga – Two new books, two book talks. Mark will speak on "Born to the Badge," the newest release in the trilogy, "Wyatt Earp, An American Odyssey" at 2:00pm  and then at 4pm, Mark will speak on his "Secrets of the Forest" book series. These are the books that chronicle the lessons he uses with schools, camps and scouts around the southeast, including the St. Peter's School's Trailwise program. Get the details here!
January 13 – Peach and the Porkchop hosts "A Novel Idea" – This excellent Roswell, GA restaurant will host 6 local authors to speak about their books while guests enjoy fabulous southern gourmet offerings. More details to come. Save the date!
January 19 – Hall County "Meet the Authors" event in Gainesville – An opportunity to meet with local North Georgia authors. Mark will be there books in hand! Find the info here!
January 20 – Wesley Woods Towers in Atlanta – "Wyatt Earp, An American Odyssey," has met with the approval of a discerning group of Western historians as well as lovers of the historical fiction genre. I hope you will join us for this lecture on Mark's books and his research (including pictures.)  Get more details here!
February 5 – Sautee Nachoochee Center  – Join us for a presentation on "Wyatt Earp, An American Odyssey," at this beautiful North Georgia Cultural Center. This will be a lunch presentation. More details to follow soon!
April 6 – Dunwoody Nature Center – Mark will present "The Ancient Ways of the Native Americans, and How We Can Revive Them Today." More details to follow. Save the date!
April 20 – Earth Day Festival at Reflection Riding Arboretum and Nature Center, Chattanooga, TN – Mark will present 2 nature walks entitled "Through the Eyes of the Cherokee" at this festival which will feature a multitude of programs and activities, as well as a large native plant sale. More details to come. Save the date!
April 27 – Blue Heron Nature Center in Buckhead – This 30 acre nature preserve right in the heart of Buckhead will celebrate Earth Day Festivities and will include plant walks with Mark Warren. Come learn about the food, medicine, and crafts of the Cherokee and Muskogee tribes. More details to come. Save the date!
Thank you for your support! I look forward to seeing you!
If you have enjoyed reading my books, I hope you will post a review on Amazon, Barnes & Noble, Goodreads, and Facebook. It really helps out. Thank you!
Secrets of the Forest


(4 volume series)
By Mark Warren
From the author: The Secrets of the Forest series was written with three purposes in mind:
1) To provide clear instructions in primitive survival skills for anyone wanting to better his/her self-sufficiency in wilderness . . . by learning the old Indian ways of living comfortably in the forest.
2) To offer parents, teachers, scout leaders, and outdoor educators a guide to engage their students in Nature . . . at a time when our young ones so desperately need this connection, as does Nature itself.
3) To win over a new generation of environmental advocates who will look after this world.
For orders of 6 or more books, for non-profit (tax free) groups, or for out of country orders, please contact Mark by email at medicinebow@att.net
Read a Review by Survival Sherpa here: "Secrets of the Forest: The Best Outdoor Education Book I've Read"
Secrets of the Forest: the Magic and Mystery of Plants and The Lore Of Survival, Volume 1 – By Mark Warren
Part One (The Magic and Mystery of Plants) covers 100 plants and their uses as food, medicine, cordage fibers, insect repellency, and craft materials. This study of plants is the essential foundation for a true understanding of the skills that follow. Part Two (The Lore of Survival) covers shelter-building, water acquisition & purification, primitive cooking, rope-making, baskets, clothing insulation, rabbit stick technique, traps & snares. Over 200 hands-on projects.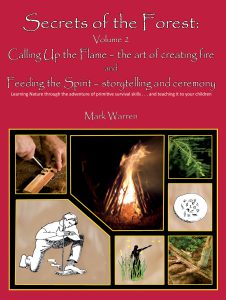 Secrets of the Forest: Calling Up the Flame and Feeding the Spirit, Volume 2 – By Mark Warren
Part One (Calling up the Flame) covers match use (for young ones), pyre-building, fuel species, fire-making species, bow-drill, hand-drill, fire-saw, and fire-banking. Part Two (Storytelling & Ceremony) explores the use of stories and ceremony in creating the whole person. Some of this content is borrowed from Native American philosophy and adapted for contemporary application by all ages. Over 100 hands-on projects!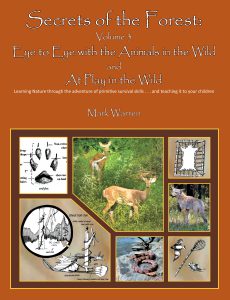 Secrets of the Forest: Eye to Eye with the Animals in the Wild and At Play in the Wild, Volume 3 by Mark Warren
Part One (Eye to Eye with the Animals of the Wild) If you have ever wanted to learn how to approach wild animals as a stalker…or track them using the knowledge of animal gaits and species-varying footprints…the lessons here are detailed and comprehensive. Also included are the old ways of converting animal skins or pelts into usable leather for crafts. One beautifully photographed chapter reveals the truth about our snakes of the Southeast. (They are not who most people think they are.) Finally, part two reveals adventure games and quiet but fascinating entertainment around the campfire. All of these games – which became Medicine Bow staples – are responsible for countless, fearful young students learning to feel at home in the woods. Over 150 hands-on projects."
Volume 4 – NOW AVAILABLE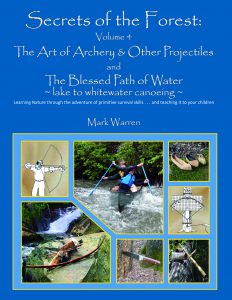 Secrets of the Forest: The Art of Archery and Other Projectiles and The Blessed Path of Water – lake to whitewater canoeing, Volume 4 by Mark Warren
Part One (Projectiles) covers making and using the sling, throwing-spear, atlatl, and bow & arrow. Also included are the steelier implements – throwing-knife and tomahawk. Most important in this volume is the art of archery – the refined, handed-down techniques for shooting a bow and arrow accurately, consistently. Part Two (The Blessed Path of Water) explores the dynamics of the open canoe, beginning on calm water and graduating to whitewater. Over 150 hands-on projects.
For orders of 6 or more books, or for non-profit (tax free) groups, or for out of country orders please contact Mark at medicinebow@att.net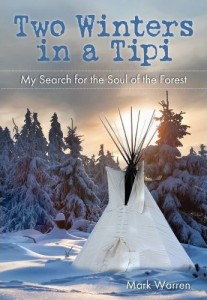 Two Winters in a Tipi: My Search for the Soul of the Forest. – By Mark Warren
"Two Winters in a Tipi" is available through your local Indie Bookstore, or from major booksellers including Amazon, Barnes and Noble, and Walmart.
If you have enjoyed reading "Two Winters in a Tipi" please post a review on Amazon or Goodreads.
A memoir: Follow the life of naturalist Mark Warren for the two years after his small farmhouse in the mountains of Southern Appalachia was struck by lightning. After losing his possessions in the devastating fire that followed, he embarked on a "simpler" life of accountability and appreciation, where every chore made perfect sense and every day carried the promise for intimacy with creatures of the wild.
As he continued his life work as an environmental educator, his tipi in the forest was more than the coziest of homes as it became a symbol of commitment for those who studied under his tutelage. This story offers the past, the parts, and practicality of the tipi, but more than that it offers inspiration for those who seek to understand the natural world as man was meant to know it.
Read Chapter 1 for free here on Mother Earth News!
Check out this book review by Lee Silva on HISTORYNET for Two Winters In a Tipi
 Wyatt Earp, an American Odyssey (a historical novel trilogy) – By Mark Warren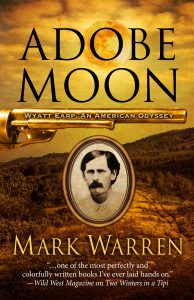 Book one, Adobe Moon is available through your local Indie Bookstore or from all major book sellers including Amazon, Barnes and Noble, Target, and Walmart.
Check out this Review From the "Historical Novel Society"
If you have read and enjoyed "Adobe Moon," please write a review on Amazon or Goodreads!
"Adobe Moon," Mark Warren's first book in a trilogy on Wyatt Earp is more than historical fiction. Though it is a period piece of the 19th century, it is a timeless story that relates to all of us.
Regardless of when or where a person lives in time, each of us is faced with a universal plight: How do we become a man or a woman? And how do we find our place in the world?
Do the times shape us? Yes, just as surely as the place and people around us. Family, especially. It has always been this way.
What if you wanted to run away from home to fight in a war . . . but you were too young? What if you were forced to labor over 80 acres of crops by an overbearing father who knew nothing about giving some slack to his sons? And, as a fourteen year old, after accruing the requisite calluses of farming, what aspirations might you consider for your vocation?
This is the story of such a boy who never quite finds all those answers. But because of his physicality, confidence, and a willingness to exercise deliberate courage, he does find his place in a life much admired by his peers. His name will always be spoken anytime that a conversation arises about justice vs. law and order . . . and how those American commodities do not always balance on the scales of a courtroom bench. His name was Wyatt Earp.
Earp was many things–farmer, freight hauler, stage driver, railroad wrangler, husband, constable, wood splitter, accused horse thief, brothel bouncer, buffalo hunter, gambler, and lawman–most of this in the "new" and raw land of America's untapped West. The possibilities seemed endless for Wyatt, but he will be remembered in that last category . . . peace officer, a role he did not want. Instead, it would seem that history wanted it for him. He was that good at it.
Reviews for "Adobe Moon" 

"It is plain Mark Warren knows Wyatt Earp's story.  He has researched it long enough, deep enough, and well enough to know it in ways that few others do. Adobe Moon is an absorbing read.  Understated, direct, yet somehow reflective and even philosophical, it is easy to forget that this is a novel about an American legend.  And that makes it all the more satisfying in the end.  In the restless ramblings of the young Wyatt Earp, Warren found clues to the man Earp would be.  I will be looking forward to the continuing odyssey of the very human Wyatt Earp he is revealing.  For now, I have much to ponder as a result of reading Adobe Moon." ~ Dr. Gary Roberts, Emeritus Professor of History, Abraham Baldwin College, author of Doc Holliday, the Life and Legend, Wiley and Sons, 2006.
"Warren stays close to history, adding the emotion and sensitivities that we can only wish we actually knew. This wonderfully written work makes readers feel almost as if they are sitting next to Wyatt on that brothel barge on the Illinois River, enjoying the treats of the time. Historical fiction can be a delight, and Warren delivers." ~ Casey Tefertiller, author of Wyatt Earp, the Life Behind the Legend, Wiley and Sons, 1997, quoted from Wild West magazine, Oct. 2017
"Mark Warren captures the essence of Wyatt Earp's formative years in this beautifully crafted narrative. Adobe Moon transports the reader to the early western frontier that shaped the legendary lawman's character and delivers a rollicking tale – entertaining and truly informative."  ~ Peter Brand, author of The Story of Texas Jack Vermillion (2012)
"Mark Warren's Wyatt Earp trilogy is a trip back in time. Part Gary Roberts, part Larry McMurtry, Mark brings Wyatt Earp to life in three richly detailed, well researched books. His exploration weaves a tale between a lesson in history and a masterpiece novel. These astonishing books are an absolute must for your library." ~Eddie Lanham, Western Researcher and Historian
"Adobe Moon is no ordinary Western. This one is special. Many fictionalized versions of Wyatt Earp's story have been written . . . most, however, are largely ignored by the historical community . . . (but this one) has proven to be the exception to the rule. Adobe Moon is an engrossing ride with Wyatt Earp. My only criticism is the next book (in the trilogy) isn't out quick enough." ~ Erik J. Wright, Author, Western Historian and Assistant Editor of The Tombstone Epitaph National Edition. Quoted from The Epitaph.
Mark Warren is the first writer to illuminate the Earp story from the inside.  Adobe Moon and Born to the Badge show you why Wyatt Earp became a legend and what that legend was born out of. ~Allen Barra, author of Inventing Wyatt Earp, his Life and Many Legends.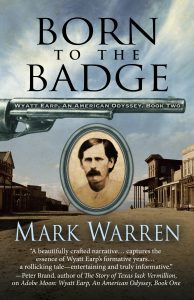 Book 2, Born to the Badge (coming November 21, 2018) Now available for pre-order through your local Indie Bookstore,  Amazon and Barnes and Noble!
Wyatt Earp builds his reputation as a Kansas peace officer in the storied towns of Wichita and Dodge City. Known for his straight-ahead, no-nonsense demeanor he is both admired and hated, yet respected by almost all who cross his path. His story broadens with the complications of relationships, one with a common-law wife who struggles to overcome her past as a prostitute … the other with a mercurial but loyal Doc Holliday, the tubercular Georgia dentist who knows that he is condemned to a short life. Still pursuing his dogged fix on becoming something more than a foot-soldier for a town government, Wyatt refines his skills at the gambling tables and bides his time, never realizing that he is moving toward the legend status that awaits him in Arizona.
Reviews for "Born to the Badge"
In 1896, Ed Colburn, who had been a Dodge City attorney during that town's turbulent early years, remembered Wyatt Earp:  "While there (Dodge City), I saw Wyatt Earp do things you wouldn't undertake for a million dollars, and yet he did it every day just as a street car conductor rings up fares or a banker receives deposits."  In "Born to the Badge" Mark Warren follows Earp through the Kansas cow-towns where he first makes a name for himself.  They still talk about Wyatt Earp in Wichita and Dodge City.  After reading this book, you'll understand why. ~
Jeff Morey, Historical Consultant for the movie "Tombstone."
"Mark Warren is the first writer to illuminate the Earp story from the inside.  Adobe Moon and Born to the Badge show you why Wyatt Earp became a legend and what that legend was born out of."  ~Allen Barra, author of Inventing Wyatt Earp, his Life and Many Legends.
"Not every writer understands that the most important line in any book is the hook – that opening sentence which grabs your attention and makes you eager to read on. Born to the Badge opens with the following line: 'Wichita, Kansas, was hell in the making…' and there I went – engrossed for hours…Warren is able to convey scenes with a cinematic clarity. In this way, I can see the store room lit by the warm glow of a single lantern; and the prairie crossing at night, guided solely by the stars above and the subtle shapes of the land smudged on a distant horizon" ~Peta Stevalli, New Zealand Booklovers
"Warren's novel paints a vivid picture of the lawlessness of the American Frontier…Although this book is a fictionalized account, its dedication to facts will keep history buffs satisfied, and its colorful similes will put a smile on any genre-fiction lover's face." ~ Booklist
"Historian Mark Warren's second volume in his trilogy on the life and times of Wyatt Earp is an excellent story of Earp's adventures and misadventures in Kansas, the Dakotas, and Texas. The dialogue is virtually true to life and gives the feeling the author must have been present when the words were originally spoken.  This volume has been anticipated and meets all expectations.  Whether one is new to the story of Wyatt Earp or a seasoned historian of the Wild West, there is something here for everyone who loves stories of adventure, law and order, and life on the western frontier of the 1870s.  A most worthwhile contribution to the story of "Wyatt Earp, Wyatt Earp, Brave, Courageous, and Bold!" ~ Roy B. Young, author and Western historian, Wild West History Association
Limited time only! Read chapter one for free!
CHAPTER 1
Spring, 1874: Wichita, Kansas
 Wichita, Kansas, was hell in the making. With the Wichita and South Western rail tracks now connected to the Santa Fe's main line, commerce had been pumped into the town like a stick
thrust into a hornets' nest. The tent phase of the business district had passed. Every building on the main street was built of wood with a flashy façade intended to show off wares and lure in customers. Soon the longhorns would be driven here from Texas to be shipped east by rail. The men who herded these cattle north brought with them old Southern grievances into the more prosperous land of the Yankees. That festering wound of the war and the God-given right to blow off steam at the end of the trail drive made for a volatile mix.
In addition to the drovers came a steady stream of bull whackers, mule skinners, buffalo runners, gamblers, and con men. Soldiers on leave from Fort Larned frequented the town and clashed with civilians in the saloons and houses of prostitution. Guns, alcohol, and hot-headed frontiersmen . . . all with something to prove. It had been the same in Ellsworth. Every railroad town on the plains had faced this double-edged sword of an economic boom. Some towns survived it; some did not. Only time would tell.
Without a settled personality, the town reminded Wyatt Earp of his first glimpse of Omaha City, where, as a boy of sixteen crossing the country, he had been witness to two men settling an argument by the sudden explosion of revolvers not ten feet apart. The remembrance of that fight had stayed with him as a vivid image. It reminded him that—regardless of the law—the ultimate tool of survival on the frontier came down to what a man did or did not do.
Now at twenty-five, Wyatt considered that such a budding center of commerce as this might supply the venue where his aspirations could take root. They were alike in ways, Wyatt and Wichita—both just getting their legs and wide open to possibilities. All he needed was the right deal with the right people. He had no real definition for that business opportunity, yet he knew that, whatever it was, he had the grit and lasting power to make it succeed.
He dismounted and stretched his legs as he walked his horses down Douglas Avenue to the river. The broad, muddy Arkansas cut through the settlement like a curved saber slash from God's judgemental hand. On the west bank it was called "Delano." There, outnumbering all other businesses, were the brothels and saloons, bawdy and flirtatious, their ambient music tinkling carefree across the slow glide of the brown water. The east side, where he now stood, was showing signs of organization, sprouting from a seed of respectability. Connecting the two halves of the dichotomous community was a substantial wooden bridge that seemed appropriately long for the metaphoric crossover to sin or salvation, depending on a man's direction of travel . . . or his particular need at a given time of the day.
Here Wyatt sensed the same delicate balance of tensions he had witnessed in half a dozen other cow towns: the money brought in by cattlemen weighed against the politics of tolerating the sins of the drovers. When the herds came in, big money would change hands in the stockyards, but it would be Delano that would hold the drovers here long enough to support the merchants on either side of the river. At best, it was an awkward symbiosis, both delicate and dangerous. Every cattle town soaked one foot in a lukewarm bath of compromise, always trying to douse whatever spark inevitably flew loose, a pragmatic balancing of interests that Wyatt found distasteful. At the same time, it was a lively place to be, with plenty of cash flow to feed the gaming tables.
Wyatt had begun to consider himself a professional gambler, at least until he settled on a proper vocation with a promising future. Come late spring, when the herds came in, he might position himself as a cattle buyer. The right poker game with the right people could provide that kind of capital in a single night.
He led his saddle horse and pack horse down a ramp to the water's edge to let them drink their fill. In the privacy below the bridge, he wet his hair in the river and combed it by raking his fingers over his scalp. Then he changed into a clean shirt and wiped his boots to a dull shine with the oil-stained, gun-cleaning rag he carried in his saddlebag. Only when he started up the ramp did he see someone watching him from the shadows under the bridge. A man lay sprawled out on a torn straw mattress, where the structural beams rested upon a levee of heavy wooden ties. The man was unshaven and shirtless, his suspender straps running over the bare skin and bone of his narrow shoulders. He propped on an elbow to be better seen.
"I could use some money if you think you can spare some," the man said in an offhand manner. "Ain't got no kinda work at the present."
Wyatt looked at the hard-luck story before him, embarrassed by the utter loss of dignity in the man's asking. "Know where I can find James Earp?" he said, nodding across the river.
"He's on this side." The man raised an arm and pointed through the bridge. "You're 'bout standin' 'neath 'im."
Wyatt dug a coin from his trouser pocket and tossed it. Snatching it out of the air, the man showed surprising agility. He touched a finger to his brow in a poor man's salute, as Wyatt led his horses up the ramp back to the street.
The one-story clapboard house had been slapped together from rough-sawn lumber with no attempt at adornment. Wyatt tied his horses to the gate of a spring wagon parked beside the house and picked a path through various  items of trash to the front stoop. On his fourth series of knocks, the door cracked open, and the timid face of a plain-featured, dark-haired female floated into view. With homely, close-set eyes and a pouting mouth, she peered out mutely and clasped the collar of her nightgown. Behind her someone snored in the front room. A cloying mix of powdered talcum, rose water, and unwashed flesh poured past her out of the doorway.
"I'm looking for James Earp," Wyatt said.
The young woman pulled in her lips, lowered her eyes, and drew back, her gauzy nightgown billowing around her. The door all but shut. When she reappeared, there was something different about her hair, and she now clasped the lapels of a faded robe to her throat.
"He's still asleep," she mumbled. "And Bessie's not up yet."
"I'm his brother."
Before she could react to this news, the girl turned to the sound of someone treading heavily across the room behind her. "We're not open, Sally. Tell him to come back." It was the husky voice of a woman in charge. "We got to catch our breath sometime."
Sally lowered her head and started to speak, but the woman cut her off by swinging the door open wider. "We're not open, mister. Come back around dark."
She was imposing, with a strong, heart-shaped face that clearly brooked no debate. Her jaded eyes bore into him without any tempering of courtesy.
"It's Jim's brother," Sally whispered from behind the door. Bessie studied the visitor up and down. "Which one?" she said, her hardened face now a challenge.
"Wyatt."
"Well, good Lord!" She stepped forward, grabbed his sleeve, and pulled him into the room. "Sally, go wake up Jim." Bessie stepped back and propped her fists on her hips. "So how'd you turn out so tall? And handsome!"
Wyatt had no answer for that.
Still examining him, Bessie fussed with the back of her hair. "Well, get yourself comfortable," she offered. "He'll drag out of bed eventually." And then, chuckling to herself, she disappeared into a back room, shaking her head.
Still standing, Wyatt looked around. On a floral-print divan halfway across the room, a fair-haired woman lay snoring beneath a tattered quilt, half her face pressed into the cushion. Even so, he recognized her as the whore James had brought from Ellsworth. The perfumed warmth of the room pushed Wyatt back toward the opening in the door.
Within a minute the girl named Sally tapped mouse-like from the back of the house and stopped at the divan, her hands clasped together beneath her small breasts and pressed into the folds of her robe. When Wyatt caught her staring at him, she quickly turned her attention to the floor.
Then a much younger girl appeared from a back hallway and attached herself to Sally's waist. Sally leaned and whispered into her ear, and the girl nodded. Arms wrapped around each other, they stared at Wyatt as if peering through a peephole from a secret hiding place.
"Does James live here?" Wyatt asked.
Sally nodded. "This is his house," she said meekly. "Him and Bessie's."
Other than the snoring coming at intervals from the tangle of blond hair on the divan, there was not another sound in the house. A bead of sweat ran down Wyatt's back. The younger girl sucked in her lips, making her mouth thin as an incision. Wyatt wondered if she could speak.
"You sure he knows I'm here?" Wyatt said.
After a whispery conference with Sally, the little girl disengaged and bolted deeper into the house. "That's Bessie's girl, Hattie," Sally offered. "She'll get him up."
He nodded toward the back of the house. "Exactly who is Bessie?"
They heard the kitchen sounds of a cooking pot and chinaware clanging and rattling in the back, and Sally lowered her eyes again. "Bessie is Jim's . . . his wife."
The girl named "Hattie" reappeared, tiptoeing across the room, where she resumed pressing her cheek into Sally's ribs, her eyes soaking up their visitor. Wyatt plucked at the back of his damp shirt and began sidling through the open door.
"Have to go and see to my horses," he said. "Tell James I'm just outside."
Standing by the wagon where the horses were tied, Wyatt heard the door unlatch and saw Sally peering at him through the crack. He patted the mare's long neck muscles, then turned to the gelding to pick at seeds tangled in the bay's mane.
Within a minute the door scraped wide open. "Well, look what's washed up out o' the river," James laughed as he picked his way through the garbage in his yard. He pulled each suspender strap over his shoulders with the hand of his good arm. "You get rich yet?"
Wyatt took his brother's outstretched hand and nodded back toward the house. "Didn't tell me you got married?"
"Hell, yes. Married to the bone. You meet Bessie?"
Wyatt nodded and let his gaze rove over the rough carpentry of the brothel. "She in this business with you?"
"Hell, yes," James laughed. "She owns it."
Still inspecting the house, Wyatt pursed his lips and did not speak for a time.
"That girl . . ." he finally said, "she's little young for a whore, ain't she?"
"Hattie?" James coughed up a laugh. "She ain't no whore. That's Bessie's daughter." He made a grandiose sweep of his arm. "Bessie and me run this fine establishment. And I'm pourin' drinks at a few of the better saloons," he added, pointing east into the proper side of town. James smiled and poked a thumb over his shoulder at the house. "But this here's where the money is."
The building did little to advertise its profit. No paint. No trim work. The window shutters closed on leather hinges nailed into the frame. It appeared to be two shacks, one added to the back of the other.
"How is it you're on this side of the river?" Wyatt asked.
James snorted a laugh, and the skin around his eyes fanned with lines just like brother Morgan's. "Special arrangement, you might say. Over here, Wichita requires a license for brothels. It's like a tax, except it ain't on paper 'cause it ain't really legal." James squinted across the silvery surface of the Arkansas toward Delano. "Over yonder's the hell-town, where there ain't no fee, but . . ." He shrugged with his good shoulder. "I'm willin' to pay. Puts us up a notch bein' over here, so we can charge more." James turned quickly to Wyatt. "Hey, you planning on stayin'?"
"Not sure yet. I'm considering buyin' some cattle."
"Hell, you can work for me right here. I could use an enforcer."
Wyatt hesitated so as not to insult his brother. Again he studied the building's crude exterior and thought back to his days in Peoria when he, too, had lived in such a place, using his fists to keep the clientele in line.
Bessie leaned out the door and called for James in a dull voice that carried the ring of insult. James's eyes flicked her way for an instant, but he only smiled and pretended to ignore her.
"So tell me 'bout bein' a cattle king," he said, leading Wyatt back to the house.
Bessie was waiting in the doorway, her face set for battle. "We got a lingerer in the back—that hairy-ape hotel man, Black. Says he'll leave when he damn well pleases."
"Who's he with?" James said, letting a little irritation surface in his voice.
"Kate," Bessie snapped, as though the whore were somehow complicit in the breach of procedure.
James led the way inside, followed by Bessie, and then Wyatt. "Hattie," James instructed in a calm voice, "I need you to step out to the front porch for a spell. Will you do that, darlin'?" He moved to a cupboard against the wall and rose up on his toes to reach the top shelf. "Sally," he said, checking the loads on a new Colt's revolver, "get dressed and run down to the marshal's office. See if Cairns is on duty. Get him down here quick as you can."
Sally appeared stricken to be assigned such a chore. "What if he's not there?" she whispered.
James snapped the loading gate shut and fixed his eyes on the back hallway. "Then he ain't," he said simply. "Just get on back here and stay with Hattie. We might have to handle it ourselves."
"You got no enforcer?" Wyatt asked.
James made his wry smile. "I'm it," he quipped, tapping his bad shoulder with the barrel of the pistol. "Half of it anyway." He raised the gun barrel up between them. "This here's the other half."
Wyatt looked past his brother at the back of the house. "Which room is it?"
A look of gratitude crept into James's face. "Second one on the right. He's a mean one, Wyatt. Strong as a bull. Used to be a blacksmith. Kate's the only one feisty enough to bed him."
"The door locked?" Wyatt inquired.
"None of 'em lock," James said.
"There a window in that room?"
James's brow furrowed. "Well, sure, but—"
Wyatt started toward the hall. "Go move your wagon away from the house and wait on me outside."
Holding out the Colt's as an offer, James stopped his brother. "Like I said . . . he's a strong sonovabxxxh."
Wyatt ignored the weapon. "Take that shooter with you," he said and walked into the dark of the hallway.
Stepping through the second door, Wyatt moved past the mound of flesh under the sheets and crossed the dingy room to the window. The stink of rancid flesh hung heavily in the still air. He unhooked the clasp and swung the windows open. Turning back to the room, he found the brawny customer peeling out of the sheets. The disheveled whore looked defiantly at Wyatt, though he could not be sure whether her anger was directed toward him or her customer.
"Who the hell're you!" the man growled. He stood in the bottom half of his union suit with the top hanging off his backside at half-mast. His belly was rounded and hard, his chest and arms matted with dark, curly hair. His arms were flaccid but thick as hitching rails.
"Your time is up. You can leave on your own, or I can help you. Which'll it be?"
The burly man gave Wyatt an expression of incredulity. "You can go fxxx your—"
Wyatt's fist caught the man in the mouth mid-speech, sending him stumbling backward to sit on the bed. A stream of blood poured from his burst lip. As the hairy man bowed his head to probe the damage done, Wyatt grabbed a handful of hair and a knot of drawers at his lower back and heaved him clear out the window.
By the time Wyatt had joined James in the yard the hairy outcast had recovered from the fall enough to sit up. Craning his neck, he outstretched an arm, trying to assess the damage to an elbow.
James stood to one side, the Colt's revolver gripped firmly in his good hand. Wide-eyed, Bessie peered at Wyatt from around her husband's shoulder. From the open window, boots, clothes, and a hat began to rain down onto the side yard. They all turned to see the whore, Kate, leaning on the windowsill, half her naked body exposed to the world. When she let loose a string of profanity, James chuckled and waved her back inside with the pistol.
Sally came up from the avenue in a stiff-legged trot. Behind her a tall, lean man walked in a long stride that made the leather of his pistol scabbard squeak with a steady rhythm. On his shirt a silver badge flashed in the morning light. When Sally stopped at the corner of the house and wrapped her arms around herself, Hattie ran from the front porch and attached to her. The deputy stepped beside James, splayed his hands on his hips, and contemplated the scene.
The disgruntled customer pushed to his feet and squirmed into the top of his union suit, all the while his eyes fixed on Wyatt. "Think I don't know how to use a goddamned door?" he growled.
"Maybe so, Harvey," James said, "but you might not know when to use it."
"Charge dat ape double," Kate called from the window. "I haff to wash deez sheets two times. He smell like da foul end uff a goat."
The man straightened and took a step toward Wyatt. "You sonovabxxxh. I was half asleep. I got a mind to take some o' that cock out o' your walk."
"You'd best be on your way,  "Wyatt said.
The man leveled a finger at James. "I paid for a night with that Hungarian she-devil."
James wagged the pistol barrel like a scolding finger. "You paid for a poke, Harvey. This ain't your hotel." He bobbed the gun toward the house. "We got other customers to service."
Then, with a dexterity that belied the man's bulk, Black turned and took a wild swing at Wyatt's head. But Wyatt was not standing where he had been. Off balance, the man attempted to redirect his blow, stumbled, and stretched his arms forward to catch himself. Stepping in quickly, Wyatt felled him with a hard-knuckled blow just behind the ear. Black lay dazed for a moment, staring at the pool of blood and saliva in the dirt that drooled from his open mouth. Pushing himself up, he managed to sit and seemed to accept his situation as the natural course of events that had started his day.
The deputy laughed quietly as he stepped forward to stand before the disgruntled customer. "Mornin', Mr. Black." Then he turned his head to James. "Any complaints here from either party?"
James put on a mischievous grin. "We were just trying out my new customer emergency exit . . . in the event of a fire."
The deputy cocked his head toward the ousted customer. "How's that workin' out, Mr. Black?"
Black looked up at the window, where the smirking whore still leaned on the frame. Then, inflating his cheeks, he spewed a stream of air through his swollen lips and pushed himself to his feet. After picking up his clothes and boots, he stuffed his hat on his head and limped toward the street.
Cairns turned to Wyatt. "You're the brother?" He extended a hand, and Wyatt accepted.
"He's one of 'em," James said. "This here's Wyatt."
"Jimmy Cairns," the deputy said and nodded in the direction that Black had gone. "Looks like you might save me some trips down here in the future. You here for long?"
"Don't know for sure." Wyatt kept his eyes on Cairns but spoke for James's benefit. "But I don't aim to work as an enforcer. Might like to try something else."
"Ever do police work?"
"Some."
"Where 'bouts?"
Wyatt hesitated only a moment. "Missouri. I was constable there."
"And Ellsworth," James butted in. "You hear about that? He wore a badge less than an hour and put it over on Ben Thompson and his crowd."
Cairns paused a moment, pushed his lower lip forward, and studied Wyatt. "We got us a marshal likes to hire on temporary help when the situation calls for it. Think that might interest you?"
"Might," Wyatt said. "Only I reckon I'll be anglin' for something more permanent."
"Well . . ." Cairns leaned and spat a dollop of tobacco into the dirt. "Truth is, 'tween the permanent and the temporary, you'd have the better end of the stick . . . leastwise when the cattle comes in."
"How's that?" Wyatt said.
Cairns spat again. "There's three of us deputies and the assistant marshal. We're the ones got to toe the mark, treat the drovers like they was our damn sisters." He shook his head. "That don't work, Marshal Smith calls up the specials on standby, encourages them to crack some heads. Then, to keep the drovers from grumbling too much, he can dismiss the specials like it's a favor to the Texas boys . . . 'til there's need for 'em again."
"Pay any good?" Wyatt asked.
As James began herding the women back to the front porch, Cairns turned and hitched his head for Wyatt to follow. "Two dollars a day," the deputy said as he ambled toward the street. "Supply your own artillery. Ammunition, too. You work five minutes as a special, you get the full day's pay." Cairns grinned. "Hell, I gotta work the whole damn day to make that." He shrugged. "Bonus on arrests. Every court fine you get on the books puts money in your pocket." The deputy smiled with the hint of a sneer. "Best part'll be watchin' you crack some skulls." He lost the smile and spat again. "I'm 'bout half-tired of coddling them damn Texas boys." He raised his eyebrows to Wyatt. "So . . . want me to tell Smith 'bout you?"
Wyatt looked down Douglas Avenue. It was a town big enough to suggest a number of possibilities, but until he narrowed those down, he would need to earn some money. A job with the marshal's office might give him both visibility and respectability in the community.
"Yeah," Wyatt said. "Tell him."
End Chapter One – Born to the Badge can be purchased anywhere books are sold. 
Book 3, Promised Land coming September 2019
Hoping to start a stage line in the Arizona boom town of Tombstone, Wyatt casts his lot with his brothers as business entrepreneurs. Fate has other plans for the Earps. Serving as a deputy sheriff and then deputy marshal, Wyatt comes up against a network of rustlers/smugglers/stagecoach robbers who have run rampant on the Southwest unchallenged until now. When Wyatt finally accepts his calling as a lawman and makes his bid for the shrievalty of the new county that includes Tombstone, his plans unravel again with an unexpected confrontation behind the O.K. Corral. This fight sets off a chain reaction of assassination attempts on the Earps and ushers Wyatt into a bloody ride across the desert to pass judgment on the men who shot his brothers. Is it an act of justice or revenge? This is a debate that has survived into the twenty-first century.
____________________________________________________________
Meet the Author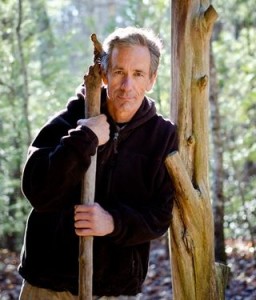 Mark Warren has been writing stories since he was a child growing up in Georgia. He is a graduate of the University of Georgia with a degree in Chemistry/Pre-med. Following undergraduate college work Mark pursued music composition and arrangement at Georgia State University, while performing original works in various concerts, scoring plays for The Academy Theater and having his suite The Once and Future King performed by the Atlanta Symphony Orchestra.
At Medicine Bow, his school in the Southern Appalachians, he teaches nature classes and survival skills of the Cherokees. The National Wildlife Federation named him Georgia's Conservation Educator of the Year in 1980. In 1998 Mark became the U.S. National Champion in whitewater canoeing, and in 1999 he won the World Championship Longbow title.
Mark has written extensively about nature for magazines, including:
Guernica, Blue Ridge Highlander, North Georgia Journal, and Georgia Backroads.
Mark is a lifelong student of Native American History and Survival Skills, and Western History with a special focus on Wyatt Earp. He is a member of the Wild West History Association and Western Writers of America.