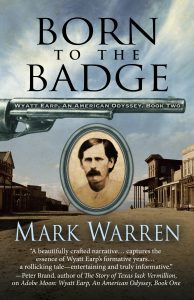 "The Writer Inside the Child." This is an essay I wrote recently for the Lady Banks Authors Round the South Newsletter. It describes an early memory of writing stories and the events that led up to the publication of my first book, "Two Winters in a Tipi." 
"Here are some of my upcoming book events and festivals I will be involved in! I hope to see some familiar faces, and enjoy some great conversations with you!" – Mark
---
Sept 8 – 9 – Dahlonega Trail Fest – Come on out and enjoy our yearly Trail Fest event right here in Downtown Dahlonega. Trail Fest, a project of Yahoola Outdoors (Yahoola Trails Conservancy), is a festival of outdoor enthusiasts revolving around all aspects of non-motorized recreation: hiking, backpacking, canoeing, kayaking, horseback riding, mountain biking, orienteering, and more! The festival features authors, speakers, workshops, music, food, vendors, and non-profit groups. I will be presenting two programs, "Survival Tricks of the Trail" and "Plants of the Cherokee." For more info check out the official website here.
Sept 15 – Atlanta Fulton County Library – Ponce de Leon Branch – Rediscovering Nature Through the Eyes of the Cherokee – I hope you will join us as I discuss how the individual items of the forest today can still be used by the modern adventurer. The plants, animals, trees and rocks are the same that sustained the Cherokees of long ago by providing the materials for all the necessary crafts of survival. I will also be introducing "Secrets of the Forest, Volume 3, Eye to Eye with the Animals of the Wild and At Play in the Wild." Get all the details here!
Sept 22 – Augusta Museum of History –  I am proud to be presenting "The Native Americans of Georgia" at the Augusta Museum of History. Come learn about the influence of the forest itself over the people who lived here in the Southeast. The daily lives of every Eastern native man, woman and child were intimately interwoven with the local trees, the herbs, the vines, the grasses, the birds, the rocks, the deer, the squirrels… You'll see their handmade crafts, hear their philosophies, and learn the hunting techniques that became their trademark. Find out all the details here.
Sept 22 – The Book Tavern in Augusta – "How One Western Peace Officer Became a Legend." Join us as I discuss my new trilogy "Wyatt Earp, An American Odyssey. I will also be signing copies of "Adobe Moon", Two Winters in a Tipi" and the "Secrets" series. If you live in the Augusta area, I hope you will be able to stop by this great little INDIE bookstore! More info here!
Sept 24 – Bartow County Library – "The Ancient Ways of the Cherokee." I will be discussing how some of our most common native plants and trees were used for food, medicine, crafts, and fire. Learning about these ancient skills and using them today promotes an atavistic connection to our natural environment. Join us for a great conversation and a look at some handmade Cherokee crafts. Get all the details here!
Oct. 3 – The Booth Western Museum – I am pleased to be presenting "The Rocky Road of Researching Wyatt Earp" at one of the largest and most respected Western art museums in the country. Join us for a study of all things Earp and the photographs that chronicle his life. This will be a lunch and learn, so you can enjoy good food and a good program at the same time! Check out the event on their website here!
Oct 13 – Pioneer Days at the Stagecoach Inn – This festival celebrates early American days and their inhabitants. I will be doing a program called "Through the Eyes of the Cherokee" at 10:30am and 12:30pm. There will also be living historians: blacksmiths, weavers, spinners, corn shuckers and grinders, wood carvers, black-powder demonstrators and more! Admission is free. More info here!
Thank you for your support! I look forward to seeing you!
If you have enjoyed reading my books, I hope you will post a review on Amazon, Goodreads, Facebook or all three. It really helps out.
And, I hope you will check out My Blog on Goodreads!
Secrets of the Forest


(4 volume series)
By Mark Warren
From the author: The Secrets of the Forest series was written with three purposes in mind:
1) To provide clear instructions in primitive survival skills for anyone wanting to better his/her self-sufficiency in wilderness . . . by learning the old Indian ways of living comfortably in the forest.
2) To offer parents, teachers, scout leaders, and outdoor educators a guide to engage their students in Nature . . . at a time when our young ones so desperately need this connection, as does Nature itself.
3) To win over a new generation of environmental advocates who will look after this world.
For orders of 6 or more books, or for non-profit (tax free) groups, contact Mark at medicinebow@att.net
Read a Review by Survival Sherpa here:
Secrets of the Forest: The Best Outdoor Education Book I've Read

Secrets of the Forest: the Magic and Mystery of Plants and The Lore Of Survival, Volume 1 – By Mark Warren
Part One (The Magic and Mystery of Plants) covers 100 plants and their uses as food, medicine, cordage fibers, insect repellency, and craft materials. This study of plants is the essential foundation for a true understanding of the skills that follow. Part Two (The Lore of Survival) covers shelter-building, water acquisition & purification, primitive cooking, rope-making, baskets, clothing insulation, rabbit stick technique, traps & snares. Over 200 hands-on projects.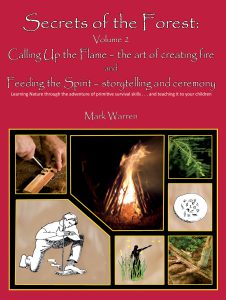 Secrets of the Forest: Calling Up the Flame and Feeding the Spirit, Volume 2 – By Mark Warren
Part One (Calling up the Flame) covers match use (for young ones), pyre-building, fuel species, fire-making species, bow-drill, hand-drill, fire-saw, and fire-banking. Part Two (Storytelling & Ceremony) explores the use of stories and ceremony in creating the whole person. Some of this content is borrowed from Native American philosophy and adapted for contemporary application by all ages. Over 100 hands-on projects.
Secrets of the Forest, Vol. 3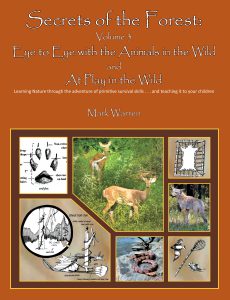 Part One (Eye to Eye with the Animals of the Wild) If you have ever wanted to learn how to approach wild animals as a stalker…or track them using the knowledge of animal gaits and species-varying footprints…the lessons here are detailed and comprehensive. Also included are the old ways of converting animal skins or pelts into usable leather for crafts. One beautifully photographed chapter reveals the truth about our snakes of the Southeast. (They are not who most people think they are.) Finally, part two reveals adventure games and quiet but fascinating entertainment around the campfire. All of these games – which became Medicine Bow staples – are responsible for countless, fearful young students learning to feel at home in the woods. Over 150 hands-on projects."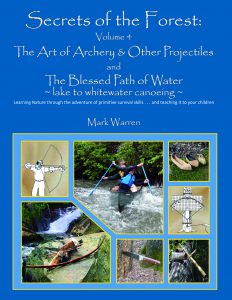 Secrets of the Forest, Vol. 4
Part One (Projectiles) covers making and using the sling, throwing-spear, atlatl, and bow & arrow. Also included are the steelier implements – throwing-knife and tomahawk. Most important in this volume is the art of archery – the refined, handed-down techniques for shooting a bow and arrow accurately, consistently. Part Two (The Blessed Path of Water) explores the dynamics of the open canoe, beginning on calm water and graduating to whitewater. Over 150 hands-on projects.
As of May 2018 volumes 1 – 3 are available for purchase.
For orders of 6 or more books, or for non-profit (tax free) groups, contact Mark at medicinebow@att.net
——————————————————————————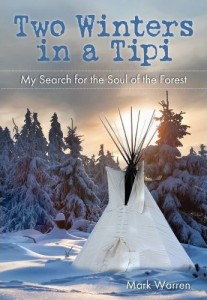 Two Winters in a Tipi: My Search for the Soul of the Forest. – By Mark Warren
"Two Winters in a Tipi" is available through your local Indie Bookstore, or from major booksellers including Amazon, Barnes and Noble, and Walmart.
If you have enjoyed reading "Two Winters in a Tipi" please post a review on Amazon or Goodreads.
A memoir: Follow the life of naturalist Mark Warren for the two years after his small farmhouse in the mountains of Southern Appalachia was struck by lightning. After losing his possessions in the devastating fire that followed, he embarked on a "simpler" life of accountability and appreciation, where every chore made perfect sense and every day carried the promise for intimacy with creatures of the wild.
As he continued his life work as an environmental educator, his tipi in the forest was more than the coziest of homes as it became a symbol of commitment for those who studied under his tutelage. This story offers the past, the parts, and practicality of the tipi, but more than that it offers inspiration for those who seek to understand the natural world as man was meant to know it.
Read Chapter 1 for free here on Mother Earth News!
Book review of Two Winters In a Tipi:
http://www.historynet.com/book-review-two-winters-in-a-tipi-by-mark-warren.htm
——————————————————————————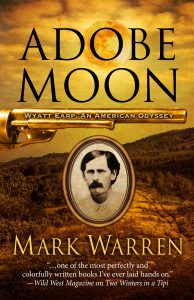 Wyatt Earp, an American Odyssey (a historical novel trilogy) – By Mark Warren
Book one, "Adobe Moon" is available through your local Indie Bookstore or from major book sellers including Amazon, Barnes and Noble, Target, and Walmart.
Check out this Review From "Historical Novel Society"
If you have read and enjoyed "Adobe Moon," please write a review on Amazon or Goodreads!
Adobe Moon (Book 1)
"Adobe Moon," Mark Warren's first book in a trilogy on Wyatt Earp is more than historical fiction. Though it is a period piece of the 19th century, it is a timeless story that relates to all of us.
Regardless of when or where a person lives in time, each of us is faced with a universal plight: How do we become a man or a woman? And how do we find our place in the world?
Do the times shape us? Yes, just as surely as the place and people around us. Family, especially. It has always been this way.
What if you wanted to run away from home to fight in a war . . . but you were too young? What if you were forced to labor over 80 acres of crops by an overbearing father who knew nothing about giving some slack to his sons? And, as a fourteen year old, after accruing the requisite calluses of farming, what aspirations might you consider for your vocation?
This is the story of such a boy who never quite finds all those answers. But because of his physicality, confidence, and a willingness to exercise deliberate courage, he does find his place in a life much admired by his peers. His name will always be spoken anytime that a conversation arises about justice vs. law and order . . . and how those American commodities do not always balance on the scales of a courtroom bench. His name was Wyatt Earp.
Earp was many things–farmer, freight hauler, stage driver, railroad wrangler, husband, constable, wood splitter, accused horse thief, brothel bouncer, buffalo hunter, gambler, and lawman–most of this in the "new" and raw land of America's untapped West. The possibilities seemed endless for Wyatt, but he will be remembered in that last category . . . peace officer, a role he did not want. Instead, it would seem that history wanted it for him. He was that good at it.
Reviews for "Adobe Moon" 

"It is plain Mark Warren knows Wyatt Earp's story.  He has researched it long enough, deep enough, and well enough to know it in ways that few others do. Adobe Moon is an absorbing read.  Understated, direct, yet somehow reflective and even philosophical, it is easy to forget that this is a novel about an American legend.  And that makes it all the more satisfying in the end.  In the restless ramblings of the young Wyatt Earp, Warren found clues to the man Earp would be.  I will be looking forward to the continuing odyssey of the very human Wyatt Earp he is revealing.  For now, I have much to ponder as a result of reading Adobe Moon." ~ Dr. Gary Roberts, Emeritus Professor of History, Abraham Baldwin College, author of Doc Holliday, the Life and Legend, Wiley and Sons, 2006.
"Warren stays close to history, adding the emotion and sensitivities that we can only wish we actually knew. This wonderfully written work makes readers feel almost as if they are sitting next to Wyatt on that brothel barge on the Illinois River, enjoying the treats of the time. Historical fiction can be a delight, and Warren delivers." ~ Casey Tefertiller, author of Wyatt Earp, the Life Behind the Legend, Wiley and Sons, 1997, quoted from Wild West magazine, Oct. 2017
"Mark Warren captures the essence of Wyatt Earp's formative years in this beautifully crafted narrative. Adobe Moon transports the reader to the early western frontier that shaped the legendary lawman's character and delivers a rollicking tale – entertaining and truly informative."  ~ Peter Brand, author of The Story of Texas Jack Vermillion (2012)
From Erik J. Wright: "Adobe Moon is no ordinary Western. This one is special. Many fictionalized versions of Wyatt Earp's story have been written . . . most, however, are largely ignored by the historical community . . . (but this one) has proven to be the exception to the rule. Adobe Moon is an engrossing ride with Wyatt Earp. My only criticism is the next book (in the trilogy) isn't out quick enough." ~ Erik J. Wright, Author, Western Historian and Assistant Editor of The Tombstone Epitaph National Edition. Quoted from The Epitaph.
Mark Warren is the first writer to illuminate the Earp story from the inside.  Adobe Moon and Born to the Badge show you why Wyatt Earp became a legend and what that legend was born out of. Allen Barra, author of Inventing Wyatt Earp, his Life and Many Legends.
Born to the Badge
(Book 2 coming November 21, 2018)Now available for pre-order through your local Indie Bookstore,  Amazon and Barnes and Noble!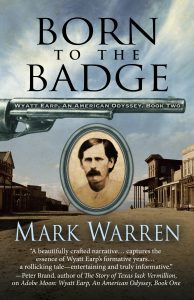 Wyatt Earp builds his reputation as a Kansas peace officer in the storied towns of Wichita and Dodge City. Known for his straight-ahead, no-nonsense demeanor he is both admired and hated, yet respected by almost all who cross his path. His story broadens with the complications of relationships, one with a common-law wife who struggles to overcome her past as a prostitute … the other with a mercurial but loyal Doc Holliday, the tubercular Georgia dentist who knows that he is condemned to a short life. Still pursuing his dogged fix on becoming something more than a foot-soldier for a town government, Wyatt refines his skills at the gambling tables and bides his time, never realizing that he is moving toward the legend status that awaits him in Arizona.
Reviews for "Born to the Badge"
In 1896, Ed Colburn, who had been a Dodge City attorney during that town's turbulent early years, remembered Wyatt Earp:  "While there (Dodge City), I saw Wyatt Earp do things you wouldn't undertake for a million dollars, and yet he did it every day just as a street car conductor rings up fares or a banker receives deposits."  In "Born to the Badge" Mark Warren follows Earp through the Kansas cow-towns where he first makes a name for himself.  They still talk about Wyatt Earp in Wichita and Dodge City.  After reading this book, you'll understand why. ~
Jeff Morey, Historical Consultant for the movie "Tombstone."
Mark Warren is the first writer to illuminate the Earp story from the inside.  Adobe Moon and Born to the Badge show you why Wyatt Earp became a legend and what that legend was born out of.  ~Allen Barra, author of Inventing Wyatt Earp, his Life and Many Legends.
"Historian Mark Warren's second volume in his trilogy on the life and times of Wyatt Earp is an excellent story of Earp's adventures and misadventures in Kansas, the Dakotas, and Texas. The dialogue is virtually true to life and gives the feeling the author must have been present when the words were originally spoken.  This volume has been anticipated and meets all expectations.  Whether one is new to the story of Wyatt Earp or a seasoned historian of the Wild West, there is something here for everyone who loves stories of adventure, law and order, and life on the western frontier of the 1870s.  A most worthwhile contribution to the story of "Wyatt Earp, Wyatt Earp, Brave, Courageous, and Bold!" ~ Roy B. Young, author and Western historian, Wild West History Association
Promised Land
(Book 3, coming in 2019)
Hoping to start a stage line in the Arizona boom town of Tombstone, Wyatt casts his lot with his brothers as business entrepreneurs. Fate has other plans for the Earps. Serving as a deputy sheriff and then deputy marshal, Wyatt comes up against a network of rustlers/smugglers/stagecoach robbers who have run rampant on the Southwest unchallenged until now. When Wyatt finally accepts his calling as a lawman and makes his bid for the shrievalty of the new county that includes Tombstone, his plans unravel again with an unexpected confrontation behind the O.K. Corral. This fight sets off a chain reaction of assassination attempts on the Earps and ushers Wyatt into a bloody ride across the desert to pass judgment on the men who shot his brothers. Is it an act of justice or revenge? This is a debate that has survived into the twenty-first century.
____________________________________________________________
Meet the Author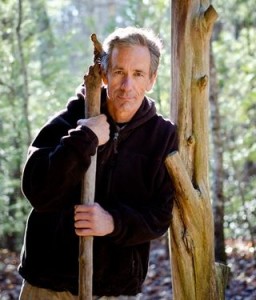 Mark Warren has been writing stories since he was a child growing up in Georgia. He is a graduate of the University of Georgia with a degree in Chemistry/Pre-med. Following undergraduate college work Mark pursued music composition and arrangement at Georgia State University, while performing original works in various concerts, scoring plays for The Academy Theater and having his suite The Once and Future King performed by the Atlanta Symphony Orchestra.
At Medicine Bow, his school in the Southern Appalachians, he teaches nature classes and survival skills of the Cherokees. The National Wildlife Federation named him Georgia's Conservation Educator of the Year in 1980. In 1998 Mark became the U.S. National Champion in whitewater canoeing, and in 1999 he won the World Championship Longbow title.
Mark has written extensively about nature for magazines, including:
Guernica, Blue Ridge Highlander, North Georgia Journal, and Georgia Backroads.
Mark is a lifelong student of Native American History and Survival Skills, and Western History with a special focus on Wyatt Earp. He is a member of the Wild West History Association and Western Writers of America.