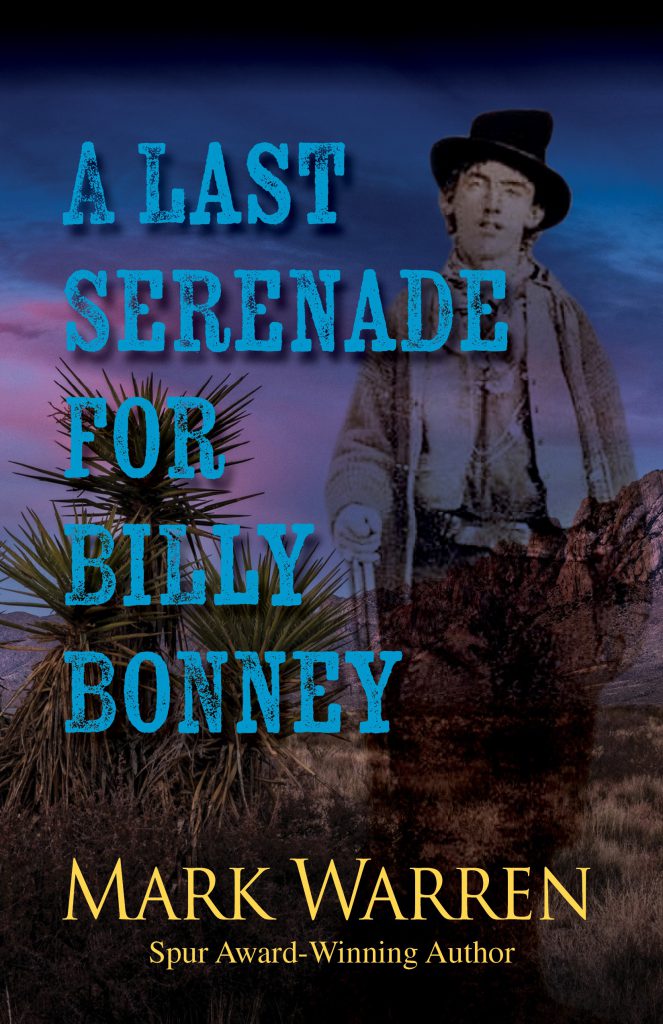 Mark's latest historical fiction will release on March 22, 2023.
We are very excited to announce that the book launch celebration for Mark's new historical fiction book on Billy the Kid will be held at The Booth Western Art Museum in Cartersville, GA. The Booth is one of the finest Western Museums in the country, and Mark is proud to be invited to present. You can find out more information here about the program. I hope you will join us! There will be giveaways and door prizes in celebration of this new release!
Reviews for A Last Serenade for Billy Bonney
". . . with Warren's exceptional gift of creative writing, he has gotten inside the possible personality of this legendary outlaw." ~Denise F. McAllister, Co-Author of the Wild Cow Ranch series
"A page-turner of a book . . . readers will find excitement on every page." ~ Roy B. Young, Publications Editor, Wild West History Association and co-author of Chasing Billy the Kid
"Rich with conflict, wistfulness, and an appropriate sense of foreboding." ~ James B. Mills, author of Billy the Kid, El Bandido Simpatico
OUR FAVORITE OUTLAW OF THE AMERICAN WEST
In the late 19th century a young man named Henry McCarty changed his name to William H. Bonney and became one of the best known historical characters of our Western mythology. We know him as "Billy the Kid." Interest in "the Kid" continues to grow as new information comes to light to reveal the fascinating personality of a boy orphaned at the age of 14 and cast out into the violent world of 1870's New Mexico Territory.
Determined to survive, Billy fell in with seasoned outlaws who schooled him in a life of crime. It wasn't long before he was forced to kill when a bully overpowered him.
After trying a career at rustling livestock, Billy chose to go straight. But his intentions were derailed by the Lincoln County War, which began with the assassination of Billy's newly found mentor and boss. Now there would be more killings by his hand, but, an argument could be made for these murders being justified – even righteous – in a land whose court system and government agents were so corrupt that eventually the President of the United States was forced to intervene.
As the momentum of the war rolled on, Billy – still a teenager – found himself elevated to the role of leadership among his companions. He lived a short life to the age of 21, when Sheriff Pat Garrett infamously killed him inside a darkened room at night.
Who was this young Irish lad who was so loved by the Hispanic community of the Southwest? How was he able to remain so likeable, courteous, and full of fun when others around him had hardened to stone to endure a violent lifestyle? This probe into the mind of Billy Bonney and the war-torn land that he loved may give an audience a new understanding of the dichotomous nature of history. One person's "bad man" is another person's "good guy."
A special bonus which comes at the end of this novel is an original composition by Mark Warren, entitled A Last Serenade for Billy Bonney.
Mark Warren is a western historian who has deeply researched the life of Billy Bonney. To book Mr. Warren for a lecture event, contact his publicist, Susan Brown at markwarrenbooks(at)att.net.