Welcome To Medicine Bow and Mark Warren Books!
Meet Mark Warren,  a naturalist, composer, novelist, and director of  Medicine Bow, a school teaching the primitive skills, crafts, foods and medicines of the Cherokee in the north Georgia mountains.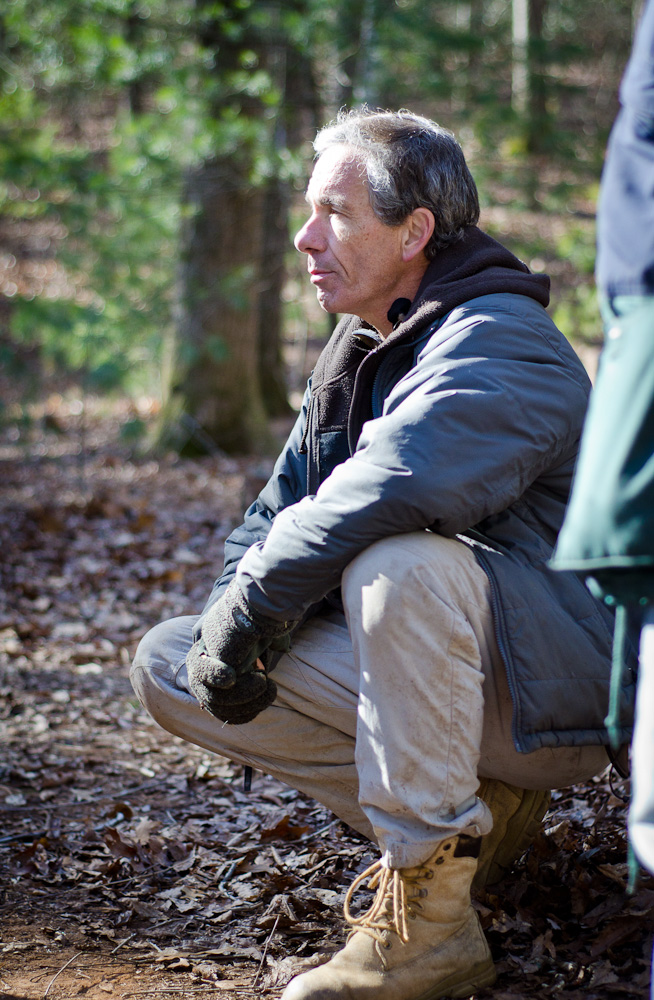 Medicine Bow – A Primitive School of Earthlore in the North Georgia Mountains
Medicine Bow  is a 35 acre wilderness school tucked into the Chattahoochee National Forest in the mountains of north Georgia near Dahlonega. The owner and teacher,  Mark Warren,  guides his students toward their own unique relationship with nature through the Earthlore accumulated by the Native Americans.
Through the classes of Medicine Bow nature takes on new values as the source of food, medicine, craft materials, fire, tools, shelter and primitive weaponry.  Learning through the patient methods of the American Indians, students encounter a vast academic growth as well as a spiritual one.
Mark also takes his lessons into your school classroom, elementary, high school and college, or to any interested group.
Quote from Mark, "All of us who live in the northern third of Georgia reside on land that once belonged to the Cherokee or Muskogee tribes. While these native people led lives of intense daily interaction with their natural surroundings, most folks today have reduced nature to a backdrop of scenery. The great deficit in this scenario is our lack of understanding that we still depend upon nature. That dependency is largely hidden to us, especially to the new generations that come along to take over the 'rules' of how we behave with nature — air to breathe, water to drink, energy to consume for our daily actions. These are commodities that are easy to take for granted. If taken for granted, humans will have no reason to respect and conserve the pieces of the puzzle we call ecology."
Mark has packed 45+ years of teaching and knowledge about the Native Americans' everyday life skills into a four-volume series of books titled Secrets of the Forest, which he wrote with three purposes in mind: "To provide clear instructions in primitive survival skills for anyone wanting to better his/her self-sufficiency in the wilderness . . . by learning the old Indian ways of living comfortably in the forest; to offer parents, teachers, Scout leaders and outdoor educators a guide to engage their students in nature . . . at a time when our young ones so desperately need this connection, as does nature itself; [and] to win over a new generation of environmental advocates who will look after this world.

Click Here to hear an interview with Mark on North Georgia Life Podcast.
In addition to Mark Warren's lifetime study of nature, survival skills and Native American culture, he has been researching the West since he read his first book on Wyatt Earp at around age 8. He grew up to become a Western Historian. Mark has traveled extensively in the West for research, and he has lectured as a guest historian at top museums around the country. Mark is the author of  a trilogy on the life of Wyatt Earp entitled Wyatt Earp, An American Odyssey, consisting of Adobe Moon. Born to the Badge and Promised Land.
Beginning December 27 and running through January 26, Mark has a Giveaway running on Goodreads. He will be giving away ten signed Advanced Reading Copies (ARC's) of Promised Land. This final book in the trilogy covers the Tombstone years, and the famous gunfight behind the OK Coral. What follows–assassination and swift justice–guarantees that Wyatt Earp's fame will forever be measured within the debate over law versus order. You can enter the Giveaway by following the link below.
Enter Giveaway
In 2012 Lyon's Press published Mark's first book Two Winters in a Tipi, a memoir. The inspirational adventure of a man who went back to the land to show us how we can rediscover and reconnect with the wilderness around us.
For more information on scheduling Mark for a speaking event, contact his publicist Susan Brown at markwarrenbooks@att.net or by phone at Medicine Bow 706-864-5928.
Would you like to sign up for Mark Warren's mailing list? Enter your information on the "Subscribe" link below to receive occasional emails about classes, book releases, events, articles and blog posts. The mailing will come from medicinebow@att.net, so be sure to add that email to your safe senders list. Thanks for signing up!