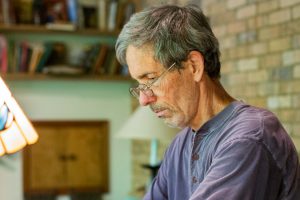 By the time I was nine years old, my collections of magazine and newspaper articles about Wyatt Earp had grown to 3 boxes. My bookshelves had become a beginner's library of the Old West. Books now outnumbered comic books.
I never stopped to ask myself why I was so passionate about this research, but that passion for history only escalated. It became obvious to those around me, and that was an asset. People began to supply me with articles they had run across. Everyone knew that I was the "Wyatt Earp kid." Most adults thought it the typical infatuation with a TV idol, but my closest friends knew better. They understood that this was something deeper.
One particular exchange between my mother and me became a repeatable regular. She would see me busy at work, which usually involved me sitting at my desk making pen and ink drawings for my ambitious anthology of illustrations depicting every notable event in the life of Wyatt Earp.
My mother would smile and watch me for a time before saying, "You were just born in the wrong time, weren't you, Mark?"
Without hesitation I always answered, "Yes, ma'am."
At that time I never realized that such a scenario would have meant I'd never have met this good woman. But she never felt hurt by my answer. She got it.
By the way, those drawings (a stack of papers the size of an unabridged dictionary) they were rendered on the oldest yellowed paper I could find. Rough-textured stuff without a hint of smoothness. My drawing implement was an old-fashioned dipping pen with a split nib that I lowered carefully into a well of India ink. I deemed this to be authentic. So crude was the process that, physically, it felt like trying to move the point of a straight pin across the surface of a carpet. Hundreds and hundreds of tortured scratchings. A passion. All these illustrations … all my boxes of papers … my entire library … decades down the road it would all go up in flames in a house fire.
In the winter of my 13th year, when most of my friends were discovering sports, girls, and the not too distant dream of owning a car, they must have been a little confused about my birthday party. For the occasion I invited 7 males with instructions to bring cap guns and holsters. I handed out scripts and coached them in a reenactment of the Gunfight Behind the O.K. Corral, informing each of his assigned shots, wounds, or death scene. It was easily the high point of my year. And as I look back on it from seventy, that unique birthday may have been my best.